Bull's Board Corner: January 25
Sam Bull, Editor-in-Chief
January 26, 2021
Hey, students. This is a series of news updates by me, Omega Editor-in-Chief and District 99 Board of Education Student Representative Sam Bull, that is designed to inform you, the DGN student body, of the most relevant changes, decisions, and updates from the most recent Board of Education meeting. In other words: this is exactly what you need to know from every Board meeting.
Not too much new information from this Board meeting, but here's all that you need to know:
Return to In-Person Learning: 
The positivity rate as of yesterday is 6.31% and the number of new cases per 100,000 is 460.4 (both based on the 14-day rolling average). These numbers reflect continual downward trends for both statistics, so we will continue to be in school unless that positivity rate jumps back up to above 10%.
New Principal:
The Board also approved the hiring of Ms. Courtney DeMent as DGN's new principal. DeMent will replace Principal Janice Schwarze July 1 after Schwarze retires in June.
Saliva Testing: 
The Board approved a district recommendation to begin working with a company called Safeguard Surveillance to administer saliva testing to both schools as an additional mitigation factor by around mid-February.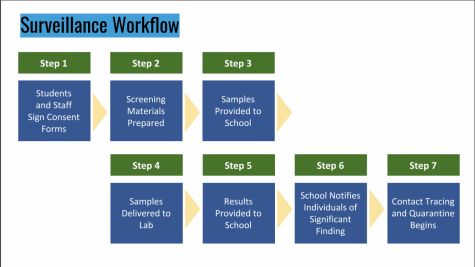 The presenters, Associate Superintendent for Student Learning Gina Ziccardi and Assistant Superintendent for Student Services Scott Wuggazer, highlighted that these tests would be non-diagnostic (so, they wouldn't produce a positive or negative COVID result); they would screen for a "viral load," which has been shown to have a strong correlation with a positive COVID test result. So, whoever is shown to have a viral load from the test would then follow the quarantine protocols and be advised to go get a PCR COVID test.
The goal is to screen all students, teachers and staff weekly through the end of the year. Results take about 24 hours to get back to the district, and the total cost for this semester is estimated to be around $500,000-$600,000. Ziccardi noted that this will be paid for with grant funds or emergency COVID relief funds that the district has not spent yet.
Vaccines: 
The Board also approved the district for finding a third party to help administer vaccines. The district has been in contact with several potential companies and pharmacies but has not set anything up yet. Thiele stated that the district will finalize a deal with a provider within the next week.
Thiele mentioned that District 99 has about 1,100 employees that would be looking to get vaccinated, for a total cost of "less than $50,000."
Click here for the full livestream of the meeting.