Bull's Board Corner: October 19
Sam Bull, Editor-in-Chief
October 20, 2020
Hey, students! This is a series of news updates by me, Omega Editor-in-Chief and District 99 Board of Education Student Representative Sam Bull, that is designed to inform you, the DGN student body, of the most relevant changes, decisions, and updates from the most recent Board of Education meeting. In other words: this is exactly what you need to know from every Board meeting.
This week's Board meeting mainly concerned returning to school for all grades that began today, and how the District will move forward amidst rising local Covid-19 numbers.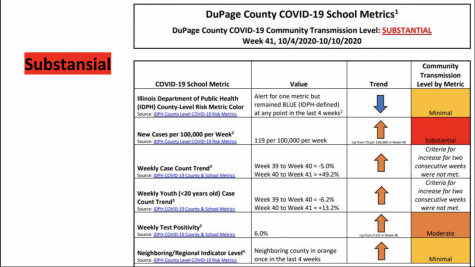 Returning to School Update:
Local metrics have increase from "moderate" to "substantial" this week for the first time, which would theoretically lead to a return to fully remote learning. However, the DuPage County Health Department has recently revised its original statements, saying that the risk factor chart is now not the only determining factor for future plans; there are many factors that contribute to the decision to return to remote versus staying in hybrid, and that it is essentially up to Thiele himself. 
While county numbers are increasing, there is no significant swell in Covid numbers among students and staff at District 99. There are currently two new positive Covid-19 cases among students in the District, compared to four from last week (for Thiele's full presentation, click here).
Thiele stated that rising numbers in our area do not necessarily mean that we must return to remote, but simply that he and those who make the decisions must "keep a close eye on it." However, if numbers continue to rise significantly in the coming weeks, serious conversations will need to be had about returning to fully remote learning. The consensus right now is that we will just have to wait and see what happens with regard to metrics.