Overcoming Online: Fine arts department attempts to give students art studio experience from home
COVID-19 has completely changed the way we live. While social distancing was foreign to our minds before March, it is now a part of our everyday lives. Of everything that has changed in our world today, school may be one of the most challenging aspects of life to navigate, and classes, specifically fine arts classes, have had to make countless adjustments.
At DGN, we offer a wide variety of fine arts classes. From drawing and painting, to ceramics, to jewelry and metalwork, students have the opportunity to take many different types of art classes. However, lots of these classes require resources that simply cannot be brought home.
"I have had to make big adjustments to my curriculum in Jewelry 1," Jewelry and metalwork teacher Robin Bican said. "Since we are unable to solder or saw metal from home I have had to re-do the Metalwork curriculum and still make it a valuable learning experience for these students. We are using materials like Apoxie Sculpt and polymer clay to create pendants, earrings, and bracelets that reflect different art movements in jewelry fashion."
Just like Ms. Bican, Ceramics teacher Amy Bernard has found that her class called for adjustments while we are e learning, as well. 
"I created 180 take home ceramics kits from ceramics 1, 2, and studio/AP students," Bernard said.  "This way, students who signed up for clay fun won't miss out." 
This hard work did not go unnoticed by the students. Junior Sandy Brindl was beyond appreciative when she received her kit, something she never expected, and that gave her a positive outlook onto the semester.
"I did not expect Ms. Bican to put in the effort that she did," Brindl said. "She went above and beyond when we went fully remote, and she genuinely wants us to enjoy this class. She's the sweetest."
Obviously, students most likely do not have an art studio at home, and will miss out on resources such as a kiln to burn clay or torches to melt and weld metal to make jewelry. But these teachers have made several adjustments, and have a positive attitude while working with what they've got.
"I think DGN students think all the Art classes are very fun and they look forward to being there," Bican said. "In order to create an authentic experience for the students, I give daily demonstrations to help guide them. That is nothing different than what I would do at school. The students share their projects with the other students and that alone motivates them to their best."
In all virtual classrooms, the attention span of many students seems to expire before the 80 minute period has concluded. Bican and Bernard agree that this surprisingly hasn't been that big of an issue in their classes.
"Students are finding ways to be more independent and problem solve without my constant guidance, that alone is very valuable as they prepare for college or beyond high school," Bican said.  "I would be lying if I said I didn't miss my daily interactions with my students but overall I think things are going better than expected."
Despite the odd circumstances of art classes this year, students are still having a great time creating projects. Junior Alina Bezeri has had a great experience in her ceramics class this year, and even plans on taking ceramics 2 next year.
" So far ceramics has been exciting and fun," Bezeri said. "Working with clay is such a fun experience and I love our pinch pots we are currently working on."
Unlike Bezeri, junior Will Ruddy is a little more upset with the virtual fine arts class. While he enjoys his fine arts class, he is disappointed that he isn't getting the entire experience.
"It's disappointing," Ruddy said. "I like going to this class, but this isn't what I signed up for. My teacher is doing all they can to give me an experience but it just isn't the same."
Many students wish we were in the classroom learning today and not over zoom calls. The fine arts teachers at school have done an amazing job making all the possible adjustments they can for e learning, and even though nothing could replace the experience of being in the classroom, students are still enjoying their art classes and making some cool creations.
About the Writer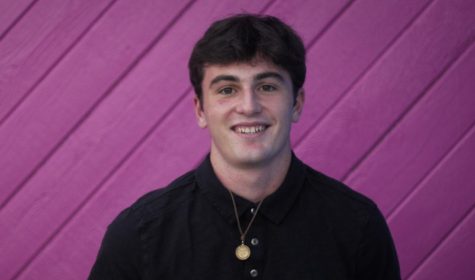 Timmy Ryan, Sports Editor
Junior Timmy Ryan is kicking off his career on the Omega staff as a Sports Editor this school year. In addition to writing for the paper, he is on the...