IHSA schedule changes allow students to play two fall sports
Major schedule changes for several sports have been instituted by the Illinois High School Association in efforts to slow the spread of COVID-19 among students. Among these changes are the switches of girls' volleyball, boys' soccer, and boys' football from the fall season to the spring.
While this was a disappointment for many athletes eager to compete this fall, the season adjustment provided a unique opportunity for the athletes who no longer had a sport filling their fall season. Some elected to continue practicing their original fall sport, but others, such as sophomore volleyball player Julia Hanson, decided to take advantage of the situation by trying something new.
"I am really happy I decided to do cross country because initially I didn't think I would enjoy running, and only signed up to get in shape for volleyball. However, I have actually learned to really love it," Hanson said. 
Like Hanson, fellow volleyball player and first-time cross country runner Violet Mitchell was wary about joining the team but is happy with how it has improved her endurance and physical strength.
"The first week of practice was really hard for me physically because I've never done this sport before. After a couple of weeks, I started getting used to it, and it has become very enjoyable…it has tested my mental toughness, and it has gotten me in great shape physically," Mitchell said.
Head girls' cross country coach Tim McDonald took notice of the increased volume of runners this fall. 
"I actually anticipated us being about 40-45 girls, based on what our team was last year and what I knew our freshman group coming in was, and we ended up getting upward of about 55," McDonald said. 
He attributes this spike in athletes to kids who were looking to switch up their fall sport this year.
"I think that we ended up with a bigger group because there were a few girls that were interested in trying new sports…I think we have about 4 or 5 girls who [usually] play volleyball," McDonald said.
McDonald also commented on how being a part of a team, especially during the pandemic, can be very beneficial for allowing human connection during this socially-distant time.
"A lot of people have been inactive…and for a lot of them that includes in-person socializing as well…school is remote and for a lot of people I think the interaction with each other in-person [at practice] has been positive for [the runners]," McDonald said.
Hanson echoed this sentiment; "Doing school work from home can get very repetitive and draining. Having practice every day and running outside with my teammates makes e-learning much more bearable," Hanson said.
Hanson and Mitchell aren't the only athletes taking advantage of this unprecedented situation – freshman Hope Sebek, who was deciding between joining volleyball or golf, is excited that she now has an opportunity to play both sports. 
"[Golf] made me have something to do every day and something to look forward to…I get to make many new friends and get to meet different people," Sebek said.
In the coming years, when the fall sports schedule will hopefully be returned to its traditional format, these athletes will now have to decide which sport they want to pursue. 
For Sebek, the decision remains difficult; she is still deciding between sticking with golf or trying volleyball. Hanson however has her mind made up in regards to her future athletic plans. "While permanently switching my fall sport to cross country is very tempting, I will definitely be sticking with volleyball," Hanson said.
Mitchell, like Sebek, has found herself in a dilemma. "I really don't know if I will go back to playing volleyball next year. I really like cross country, and I think I want to continue that path throughout high school!" Said Mitchell.
Regardless of whether they stick with their new sport, McDonald recognizes the importance of these new experiences, which allows kids to step out of their comfort zone and be introduced to new people.
"I was in high school once, a long time ago, and you're experiencing it, we tend to hang out with the people that are in our similar interest group…sometimes something changes where you try a different sport midway through [high school]…And so I think the biggest benefit is all of a sudden you meet this other group of people and you realize 'Wow, these are really cool people'," McDonald said.
About the Writer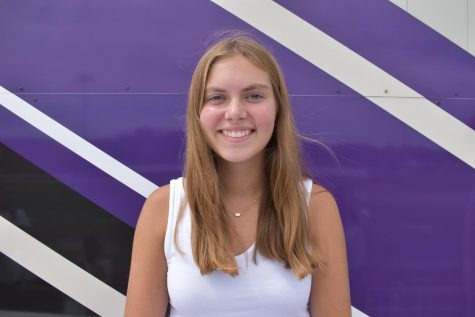 Kate Gross, Editor-in-Chief
As a senior, this is Kate's second year with the Omega and her first year as an Editor-in-Chief. She spends most of her time on the basketball court...