ACT to allow retakes on parts of exam
By September of 2020, students who have taken the ACT will have the option to retake sections of the test. This option of a partial retake is a first in the ACT's 60-year history. 
Students have the option to retest on seven days of the year, the same days as the national ACT Test. The policy states a limit of three retests during one testing session but no limit on the number of retests a student may take. 
"We are simply offering new ways to take the ACT, saving students time and giving them the ability to focus only on subject areas needing improvement," Suzana Delanghe, ACT chief commercial officer, said in a statement to the Washington Post.
These changes follow a period of states turning away from the ACT. In the 2016-2017 school year, Illinois followed suit by signing a contract with the College Board and transitioning to the SAT.
In 2018, more than 1.9 million students took the ACT, a decrease from years past reported the ACT inc. Similarly, Teri Manderino DGN College and Career counselor reports, in 2018, 297 DGN students chose to take the ACT, while 565 chose to take it in 2017. The policy comes from a final push by test companies to make their test more relevant to students.
"You have to remember that both the SAT and the ACT are companies, they are businesses, they are trying to make money. You have a number of colleges now who have said that they're moving away from using standardized test scores as a component of the admission most recently and the one that really hit the news was University of Chicago," Associate Principal Sara Courington said, "so I think they [test companies] realize to a certain extent that they're a bit in trouble they need to think about ways to modernize their tests and continue to make themselves relevant" 
In their efforts to modernize the test, this policy change also involves an online testing option for students, open to some students who test on Saturdays. It would allow them to receive their results in two business days.
"ACT is a product– over time, even classic products need to change to remain relevant, so I imagine that is what is happening here," admissions counselor from Wheaton College Ariel Norquist said.
 However, this change does not seem appealing to some students.
"I would hate taking an online ACT because I like to write out and text-mark the entire test," senior Grace Jaworski said. 
Others are more enthralled by the idea of getting their results sooner. "It's sometimes a lot to look at a screen for a long time, especially with a long test like the ACT but I know the biggest for me was the 48 hours. I want to get my results that soon." senior Meghan Krause said.
The most significant change being implemented to help sell the test are the specific section retakes.
This change would apply to many who choose to take the test.  "Of the 55% of graduates who chose to take the test, 45% choose to retest," said ACT Chief Commercial Officer Suzana Delanghe in an interview with the Washington Post.
In the past retesting with the ACT meant an almost four-hour-long session. This change allows students to focus on areas where they need improvement. 
"The purpose of exams like the ACT is to measure overall knowledge, not an individual's performance on one specific day, so I think retaking one section is a viable option," senior Ella Dennis said.
The single testing retakes also offer a financial benefit for students.
"The single-section retake will be less expensive than taking the complete ACT again, so that should help make retesting more affordable for many students," said Delanghe in an interview with CNN.
Students pay $62 for one test, including the writing. For many students, this a charge for their future. 
While details of the costs of section retakes are unknown, they are expected to be much lower. This would help balance opportunities for high school students which translates to opportunities in college. 
Many colleges require standardized test scores as a part of the student's application. "We require an SAT or ACT result in our application process because that can reflect something of a students' knowledge and their logical reasoning skills," said Norquist. 
Further trying to make the ACT more appealing, particularly to colleges, the third part of the policy change is the addition of superscoring done by the ACT. Superscoring is where colleges look at the highest score from each section at all attempts of the test. 
"This is going to allow a much larger number of students to get higher super scores, which will just increase the competitiveness of getting into college," said Jaworski.Superscoring would allow colleges to be able to see the full picture of an applicant's abilities."I think it could present a student's best  test-taking ability 
These changes are all moving towards a testing and college application system that looks at students comprehensively.
About the Writer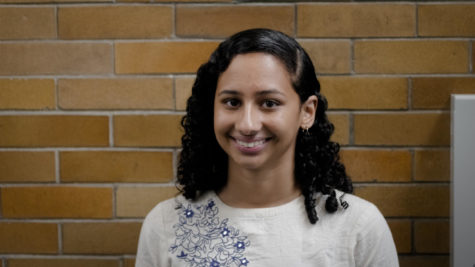 Anika Canamedi, In-Depth Editor
As a sophomore, Anika Canamedi is eager to start her first year on the Omega staff as one of the in-depth editors. You can often find her at DGN, in the...