Changemaker workshop plans to solve campus issues
The organization My Name, My Story hosted a seven period long Changemaker Day at DGN Oct. 9. This workshop is designed to "empower students to be changemakers on their campuses" by "inspiring empathy" through activities and conversation.
"We believe that the lack of empathy is the root cause of many of the issues we see on school campuses today," My Name, My Story said on their website. "Our team works relentlessly to create a community that is focused on empowering changemakers and inspiring empathy so that we can eliminate issues like bullying, apathy, and an overall lack of connectivity."
Prior to the Changemaker Day, a group of 30 juniors and seniors were selected by Principal Janice Schwarze, teacher sponsor Mike Melie, and Student Activities Director Mark Mirandola to be facilitators at the event. These students attended an additional training workshop Oct. 7 to learn how to lead a small group at the Changemaker event. 
"I felt really good about the students that we chose because I think they represented all different demographics of North," Schwarze said. "We were able to tap some people who maybe wouldn't have stepped up on their own. Somebody saw something in them that maybe they didn't see in themselves."
Another 150 students from the sophomore, junior, and senior classes were invited to be participants at the event. Senior participant Matt Macek touches on what he expected going into the Changemaker Day. 
"When I first got the invitation, I had no idea what it was about," Macek said. "I also had no idea who would've recommended me for it because I didn't really see myself as a change maker, but now I have a shirt that says so."
During the event, a My Name, My Story representative, Kim, lead activities that were designed to take students out of their comfort zones. 
"Overall, I think the best part was that kids got to talk to kids that they didn't know," Schwarze said. "I think the idea of you being a changemaker is you will step into leadership, but you don't have to have a title or you don't have to be a leader that's real social or something like that, there's many ways you can be a changemaker."
Towards the end of the day, students met in a small group to identify an issue at DGN and come up with steps on how to fix it. Junior participant Maggie Casey and her small group focused on what DGN needs to do to ensure all students are treated equally and how we can make our school a closer community. 
"I really liked the conference because it was helpful to see how I can change to become a better leader. It was helpful to hear the different experiences each student has had at school and what we can do together to make DGN a healthier environment," Casey said.
In the future, Schwarze and Melie are planning on continuing to work with this group of changemakers to make DGN a better place for all students. Melie touches on the fact that, since this program is brand new, they are still in the brainstorming phase. 
"We've been trying to communicate where it's going. It's kind of morphing as we do it," Melie said. "We are kind of waiting for students to drive it. So, that's kind of why it hasn't been totally spelled out like here's the next step because we are waiting for you to come up with those ideas at the Changemaker Day and now we are going to go through those."
Overall, the staff members involved agreed that it was a positive experience. 
"I really enjoyed it. It was one of those things where I walked out of it and the energy was so positive that I felt a sense of hope. It was kind of like, 'this is why I am doing this job'," Melie said. 
About the Contributor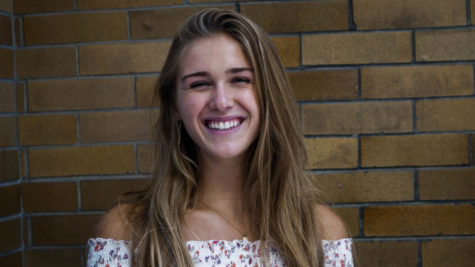 Hailey Grubich, Feature Editor
Hailey Grubich is a Feature Editor for the Omega this year. She is a current senior, and, although she is planning to major in environmental engineering...