Crosswalk Safety Becomes a Concern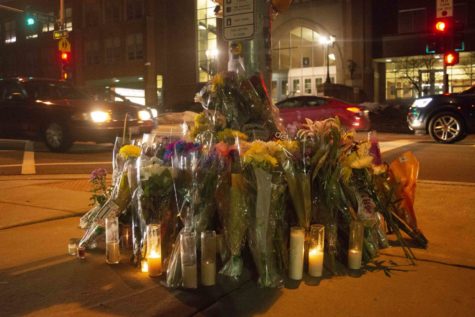 Every morning, students cross Main Street as part of their routine to begin their day at DGN. The intersection of Main Street and Grant Street has been the site of numerous vehicular and pedestrian accidents. After the recent death of student Beth Dunlap due to an incident at the intersection, concerns about pedestrian safety has reached a new high.
"It's always that crosswalk that we've looked at in regards to safety concerns," district superintendent Hank Thiele said in an interview.  "When the protestors came through we were really concerned. Of all of the spots in the district [this intersection] is sort of the most unique spot."
According to information obtained through a Freedom of Information Request sent by The Omega to the Downers Grove Police Department, 13 automobile accidents filed by the police department have occurred at the intersection since 2000. Of those 13 accidents, four have involved pedestrians crossing the street. With the most recent incident occurring Feb. 19, the district has begun to review safety measures at the intersection.
"We're always looking at safety," Thiele said. "We take into account traffic patterns as well as if students are standing and waiting to cross. We have a safety committee and are always looking at ways to make school safer."
One safety measure that has been proposed is the addition of an elevated walkway. The walkway would cross from the parking lot to the building over Main Street, and would connect to the second floor. Although there are no current plans to install an elevated crosswalk, recent events have sparked a new conversation.
"We do not currently have architectural drawings or current estimates related to an overpass on Main Street" Associate Principal Ken Sorensen said in an email interview. "However, we are having conversations with our architects about possible drawings and estimates. The first projected estimate by the architects, without any study or drawings, would be between $4 to $4.5 million dollars."
Students have also begun to express concern for pedestrian safety at the intersection. DGN senior Sebastian Tesar believes there are additional measures, other than an elevated crosswalk, that can be added to improve student safety.
"The entrance itself is inherently dangerous being positioned just off a busier street," Tesar said. "The general lack of speed bumps and the fact that Ogden Avenue is roughly two thousand feet north of the school simply adds to the hazard. Main Street is a commonly traversed street and has seen many accidents of its own. Adding speed bumps by the school and maybe even a crossing guard could help remedy the issue."
Although there have been no new safety measures added to the intersection itself, DGN has taken internal steps to increase student safety. A policy regarding students leaving the building during the school day in order to retrieve an item from their car has changed to help crossing safety.
Previously, students would need to call home and receive parental permission in order to go to the Main Street parking lot. With the new policy, students are now assigned an escort from the security team to accompany them to the parking lot without parental permission. This policy was adopted in order to minimize students' time outside of class.
"The request and/or need to go to your car is at the Dean's discretion as it always has been," Associate Principal Kelly Zuerner said in an email interview. "However if it is warranted we ask our security team to assist in the escort to provide a quick and safe way to leave and return to the building"
Senior Holloway Peters is uncertain of exactly how to improve safety measures at the intersection, but he believes it is the village's job to ensure students' safety.  
"I think that it would be careless of the village to not make at least some change to how it functions," Peters said. "it's clearly not as safe as it could be."