New Year, New Media: What to Watch or Listen to in 2019
New Year's resolutions are often hard to stick to and require a lot of work. If you're looking for an easy list to check off, here's a list of what you should start your year off with.
Movies and TV
You – Netflix Original Series
Creepy yet compelling, 'You' follows the story of a relationship where the obsession becomes too real. If you're looking for a show that makes you lock all of the doors in your house, this is the one. After only a month on Netflix, 'You' has been viewed by around 40 million accounts on the streaming service. With stars like Penn Badgley from 'Gossip Girl' and Shay Mitchell from 'Pretty Little Liars,' the show brings back some favorites from the past and puts them in a new light
Taylor Swift's Reputation Stadium Tour Movie – Netflix
After missing the concert event of the summer (and perhaps of 2018,) I was bummed. It's every girl's dream to see a Taylor Swift concert. Netflix and Swift herself acknowledged this and the 'Reputation Stadium Tour' movie was born. If you're a music fan craving a concert experience but your wallet says differently, this is the movie to watch especially if you missed her concert this summer. High energy with impressive graphics and production, the movie is a fun one to watch. You feel like you're at her concert without leaving your couch. Performing old and new hits, Swift wins over crowds both live and at home.
A Series of Unfortunate Events Season 3 – Netflix Original Series
After reading the 12 book series as a kid, I was extremely excited to hear that the series was to be adapted into a three season installment with Netflix and I have not been disappointed with it. If you're a fan of the book series, you will enjoy the little easter eggs the directors have hidden in the show. It stays very true to the books and brings back a lot of nostalgia and memories from the times I read the books. The quirkiness and quick wit the show has is unlike any show out currently and is an easy watch with each season having only seven or eight  50-minute long episodes.
Music
Album: Heard It In A Past Life by Maggie Rogers
After I heard Rogers' single "Light On," I knew she would be an artist to look out for. Her first album proves this. If you're a fan of HAIM or Fleetwood Mac, you'd like Rogers' style. Although similar to their styles, she somehow makes her own and does a pretty good job at it. My favorite song off the album titled "Past Life" is the perfect song to listen to while driving home at night in the snow. Her album sets the perfect mood for January, cold yet hopeful. This is the perfect album to start your year off with.
EP: Love, Me by Lennon Stella
When YouTube was in its prime (aka 2012, in my opinion) 12 year old Lennon Stella and her sister, 8 year old Maisy posted a cover of Robyn's 'Call Your Girlfriend" which has now grossed 30 million views. I remember listening to them and being in awe of their talent. Now 19, Lennon Stella has released her first EP titled 'Love, Me" in which has made her out to be someone to watch. A personal favorite, 'Bad,' is extremely catchy and highlights the regrets one feels after ending a relationship on good terms. This EP has me looking forward to more of her work.
Song: 928 Miles by Ellie Banke
Senior Ellie Banke has finally released her highly anticipated single '928 Miles' after originally planning on releasing it in Oct. of last year. This single was worth the wait as she plays around with bluesy sounds and uses her incredible vocal range to her advantage (and ours too.) Banke draws inspiration for her song from a past long distance relationship (exactly 928 Miles… get it?) which makes the emotions she portrays all the more real. This is the perfect song to listen to on a rainy Sunday morning while you're in your feelings. If you aren't already in your feelings, this track will definitely change that.
Feel like I missed something? Feel free to comment your recommendation!
About the Writer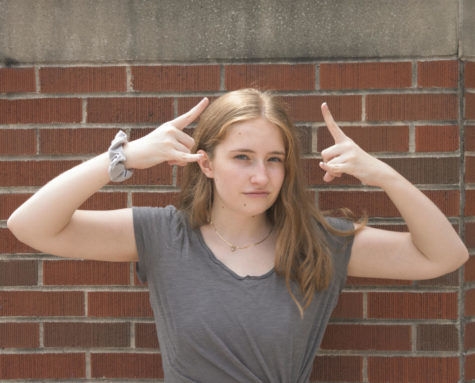 Ellie Cawthorne, Social Media Editor
Senior Ellie Cawthorne is excited for her first year working on the Omega staff. In addition to the Omega, Ellie is also heavily involved with theatre...