Jon Bellion's glamorous Glory Sound Prep
Hang on for a minute...we're trying to find some more stories you might like.
In the much anticipated release, Jon Bellion introduced his extremely patient audience to Glory Sound Prep, his second studio album. This incredibly vibrant and mystical collection of songs can certainly be described in a variety of different words, but only two are needed: musical genius.
The first of the songs I heard was Conversations with my Wife, which came out prior to the release of the album. This song created the base for the other nine that followed, exemplifying sounds from all sorts of musical instruments, which inevitably created the familiar yet peculiar beats Jon Bellion fans have came to worship.
One of the more sad, though still fast paced songs is Stupid Deep. From the get-go, it was certain this would be one of the features on the album. The slow beginning was shockingly overthrown by the sound of a powerful flute, which not only caught me off guard but drew me in even more. This almost routine surprise once again proved to me Jon is willing to forget the normalities of music, and do what he's known for doing best: creating for himself, and letting the people follow in his brilliance.
Through the rest of the album, something introduced more than usual is the presence of the trumpet. While this is not a surprise, since in the past he has created the song Luxury from the base of the instrument, I couldn't help but notice it from standing out. The loud, soothing piece of metal makes its way through every single song, and merely dominates the song The Internet.
This album was all around phenomenal, though while it was lonely for the last two years without new music, Jon seems to have once again exceeded expectations and took the weight of the world into his own hands. I have no doubt in my mind why Wikipedia had put "musical genius" under his occupancy.
About the Writer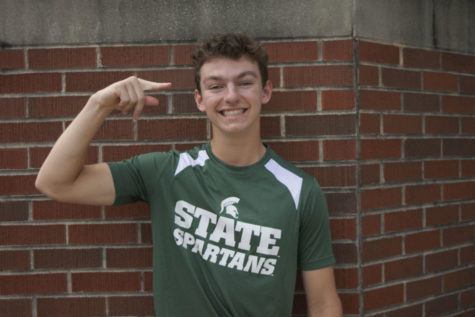 Sam Weinheimer, Feature Editor
Sam Weinheimer is a junior at Downers Grove North. He is a feature editor and is also apart of the photography team. Being his first year on the staff...