Protests: Anti-abortion protesters assemble in front of DGN
Parents and teachers cover anti-abortion protesters' signs
Matt Troher and Moises Dominguez (photography)
December 18, 2018
Hang on for a minute...we're trying to find some more stories you might like.
A once routine act, crossing Main Street to enter DGN became eventful during the week of Wednesday, Dec. 5.
On the morning of Dec. 5, two male protesters stood on the sidewalk in front of DGN and held signs displaying graphic images with slogans advocating against abortion. In addition, the men hurled insults and handed out pamphlets as students entered the building. Senior Maria Smetana was making her way into the building as she encountered the protesters head-on.
"I crossed the street, and the protesters were there on the sidewalk," Smetana said. "He tried to hand me a pamphlet and screamed at me as I walked up the stairs that I was going to go to hell. He tried to follow me up the stairs, and he ran at me screaming 'you're gonna go to hell'."
Teachers and DGN administrators stood outside of the school to distract students from the protest. Principal Janice Schwarze stood at the crosswalk, talking to students about free speech, and letting them know the activists were not affiliated with District 99. Shortly after the protest ended and school began, Schwarze emailed a memo to the community.
"As I greeted students and staff this morning across the street from the protesters, I reminded them of the right to free speech and assured them that District 99 was not making a statement one way or the other about this issue," Schwarze wrote in the memo. "Rather, we want our students and staff to consider what an appropriate form of protest looks like and be aware of how some people might have been impacted by this morning's event."
Photo by: Moises Dominguez
The protesters arrived in the Main Street parking lot at approximately 6:30 a.m. and gathered in front of the school as early-bird classes began. As more students filed in the school, talk of the protest spread through the halls and eventually landed on the ears of social studies chairperson Jenne Dehmlow, who uses the staff parking lot located in the rear of the school.
"When I arrived, there was a lot of energy, and I was told there are anti-abortion protesters out front with posters and very graphic signs," Dehmlow said. "This was not the first time that I saw this. I live in Naperville and when my kids were young I drove by a Jewel with [protesters outside] and my kids turned and saw them. It was horrifying."
Dehmlow, accompanied by social studies teacher Karen Spahr-Thomas, headed out to the Main Street entrance to get a better look at what was going on. Once they saw the graphic nature of the signs, Dehmlow and Spahr-Thomas knew they had to take action.
"We walked toward the window to look out and see what was going on," Dehmlow said about the situation. "When we saw them, [Spahr-Thomas] said 'Oh my gosh, what should we do?', so I said, 'I'm walking out there. I can stand in front of them.'"
Due to the fact that the sidewalk in front of the school is public property, and that the First Amendment protects free speech on public property, there was nothing that legally could have been done about the protesters. However, Dehmlow and Spahr-Thomas took an alternate route and decided to physically stand in front of the posters held by the activists.
"
The protesters had a right to be on the sidewalk as it's public property, but the reason we went out there was to protect students. We wanted to make sure they felt safe walking in."
— Karen Spahr-Thomas
As the morning progressed, other members of the staff made their way to the Main Street entrance to detract attention from protesters and serve as a comforting sight to students. English teacher Demetrios Pappageorge, social worker Brian Kittinger, and science chairperson Michael Heinz all stationed themselves in front of the protesters. In addition, police officer Jon Lyerly stood outside to make sure protesters did not physically interact with students. Pappageorge made it a point to talk to students and help them process what they just saw.
"My issue is that their tactic was an aggressive full-frontal attack of bloody image grenades and verbal assault," Pappageorge said in an emailed statement to The Omega. "Discussing both sides of the abortion debate is difficult, to say the least, but it needs patience, calm, and guidance from a teacher or counselor of some sort who can keep things calm and productive and bring perspective."
As more students arrived parents and community members witnessed the protest. A parent, who has requested to remain unnamed in this article, grabbed a handful of blankets she stored in the back of her car and passed them out to the DGN staff members who were outside. They then used the blankets in an attempt to cover the graphic images from the sight of the onlookers.
As teachers and community members tried their best to block the graphic images from students entering the school, some teachers tried to drown out the noise. Teachers greeted students by saying 'good morning' or wishing them a 'happy Mosaic' as the annual holiday assembly also happened that morning. Spahr-Thomas made it her mission to make sure students had a friendly face to find amongst the chaos.
"My decision to stand outside had nothing to do with the topic of [the protest], but when the protesters are yelling and displaying graphic images, that's why we went out there — we wanted to make sure the students saw friendly faces," Spahr-Thomas said.
The next day, one of the two protesters uploaded videos to YouTube that he captured from a body camera. As of Dec. 11, he has uploaded seven videos of footage captured from the protest. Students found his YouTube channel, and links to the videos were quickly shared through social media sites such as Nextdoor, Facebook, and Twitter. As of Dec. 11, the videos amassed 6,109 total views.
The protesters returned in front of DGN on the morning of Friday, Dec. 7. This time, administrators and police officers were stationed outside, however, staff members were informed not to stand on the sidewalk or interact with the protesters. Staff members instead stationed themselves on the steps of the school and welcomed students as they entered the building.
"We are aware of the engagements and conversations on social media and believe that providing attention is encouraging the behavior to continue," Schwarze said in an email statement sent to the District 99 community Friday morning. "I respectfully request that the DGN community refrain from engaging further online as that may cause more of these types of protests."
Still, students interacted with protesters, taking pamphlets and at times debating them about their views. Other students didn't interact but tried to drown out the noise by loudly singing inside the lobby and on the steps of the school.
Protesters assembled for the third time on the morning of Monday, Dec. 10. The two recurring protesters were joined by three more men, stationing themselves on the sidewalk on both sides of Main Street. The scene Monday morning was calmer than previous.
"
If I have learned one thing, it's that we have an amazing student body, staff, and community. We continue to turn challenges into learning opportunities, and we are stronger as a result. "
— Principal Janice Schwarze
Students mostly walked straight-faced past the protesters with few students stopping to confront them. Police officers, as well as DGN administrators, stood outside again, with community parents helping to usher students safely across the street.
"If I have learned one thing," Schwarze said in an emailed statement after the third round of protests, "it's that we have an amazing student body, staff, and community. We continue to turn challenges into learning opportunities, and we are stronger as a result."
About the Contributors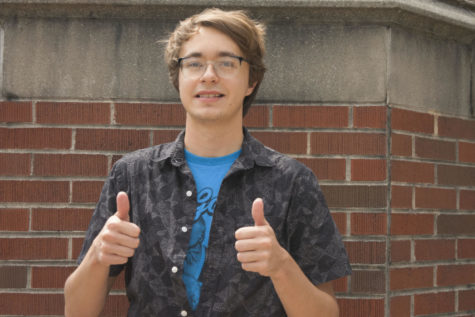 Matt Troher, Editor-In-Chief
Senior Matt Troher is excited to take on his second year on the Omega staff, as well as his first year as Editor-in-Chief. Unsurprisingly, Matt likes to...