Girls Volleyball Team begins journey to reclaim Elite 8 title
Hang on for a minute...we're trying to find some more stories you might like.
After a slow start of 0-3, the girls volleyball team get back on pace with last seasons varsity team. In the '17-'18 season, the girls went 27-13 and became a part of the "Elite 8".
Last years season came to an end after losing to Saint Charles North in the third match of the "Elite 8" final game 15-25.
"We fell apart, they [Saint Charles North] made less mistakes and forced us to be consistent and we never had captured that," Wasik said.
Winning their first conference game against Lyons Township on Sept. 4, giving them a chance at reclaiming the 6-0 in conference record that the team had last year. As of Sept. 18, the girls are 3-0 in conference, undefeated, just like the '17-'18 season.
"Starting the season 0-3 isn't accurate as to who we are and where we stand. No one has the same schedule as us," Wasik said.
Wasik sets the schedule for the team each year, he has not only removed any of their "fluff" teams that will not give the Trojans any competition. Wasik also chooses who the girls play home and away through communication and deals with coaches from other teams. Last year the Trojans played Mother McAuley at home, this season the girls played and lost to Mother McAuley at their home on Aug. 23."This year is fairly favorable for us in terms of who we see home and away which is good, we have to capitalize on that," Wasik said.
Senior Madeline Degiorgio has played on varsity for three of her four years on the team. Being on the starting lineup for the Trojans, Degiorgio and her other five teammates on the court are equally dependent on each other during games. Thus, making their team chemistry crucial to their success.
"We definitely had to work harder in practice [compared to last year] to find the chemistry because we have new people. Last year we became close quicker but this year we had to grind for it and it felt better to get that first win," Degiorgio said.
In the '17-'18 season, the Trojans had D1 commit Claire Delaplane and three other seniors as a part of their lineup. Delaplane and the other three seniors played their last season of high school volleyball for the Trojans, leaving the future of the team up to Wasik and his '18-'19 lineup.
"I think all of the seniors that played for us last year really had a good piece on the team but I think we knew thats what was leaving us and we still have really good pieces to a team and we can be as good if not better than last year," Degiorgio said.
Returning senior, Margaret Mahlke along with the other nine returning varsity players presents a level of experience that gives the Trojans an advantage to bring the team to full potential.
"Our past two games we won both of them and I think things are finally starting to come together and we are realizing all the potential that this team has," Mahlke said.
The girls continue on to progress through their schedule and have 13 more games left before the postseason begins. As of Sept. 18, the girls are 7-6 and face Metea Valley high school at home on Sept. 26.
About the Writer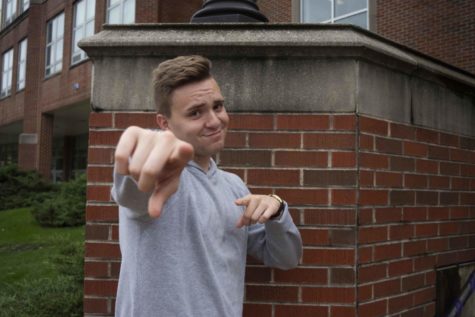 Trenton Cintron, Sports Editor
Trenton Cintron, is am a senior at DGN. Before he came to DGN, he attended Mark T. Skinner west elementary school in downtown Chicago. Now at DGN he participates...