Winter guard closes successful season with increased weaponry skills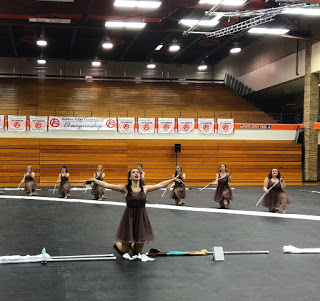 Winter guard has placed in the top three in their past five competitions, and have increased the number of team members able to use a wider variety of weaponry.
When competing, the team is judged on design, general effect, movement and equipment. The equipment judge look at how the different types of equipment, such as flags, sabres an rifles, move together. Movement judges the dance part of the performance while design pays attention to formation and spacing.  One judge scores movement, one for design and one for equipment and there are two judges for general movement that score how well the show flows and how the message of the show is portrayed.
"I don't think people realize how difficult guard can be. It is hard to pick up at first for a lot of people because a lot of the things we do are thing you would not ever do in any other part of your day. The equipment can leave pretty big bruises even when you do everything correctly. One time the rifle hit me on the nose and I saw stars for a few minutes," fall captain junior Carrie Gorman said.
After seeing guard perform in a parade in third grade, Gorman knew she wanted to join when she got to high school. This year, multiple members can use a saber and rifle, compared to only one person Gorman's freshmen year.
Additionally, senior Marz Tingzon joined the guard team as the first boy in DGN history. Gorman attributes the increase in success to these new changes. She also acknowledges the experience of the team's coach, Crystal Zaragoza and the positive attitudes and dedication of her teammates.
"It is so great because I don't think people realize that boys are allowed on the team and we know from our own experience and through watching other teams that often [teams with boys] do very well," Gorman said.
Students have the opportunity to watch guard perform  at assemblies and football games. Smith believes this team is the best she has been a part of during her time at DGN.
"I think the misconception is there because from the start, everyone on the team is trained to keep smiling the whole time even when they are struggling. We just smile through the pain," Gorman said.
The team will competed in the Midwest Color Guard Circuit Championships in LaPorte Indiana, on April 7 and finished third. The competition also awarded Di Iorio a scholarship for her participation in guard over her four years.
About the Writer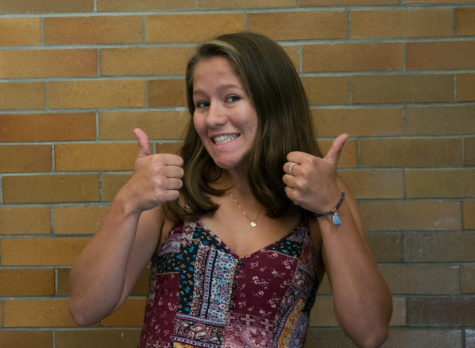 Natalie White, Editor-In-Chief
Senior Natalie White is on her third year on staff. In between naps and unnecessary food trips, she can be found in her car jamming to Beyoncé running...