Hijab doesn't hold athlete back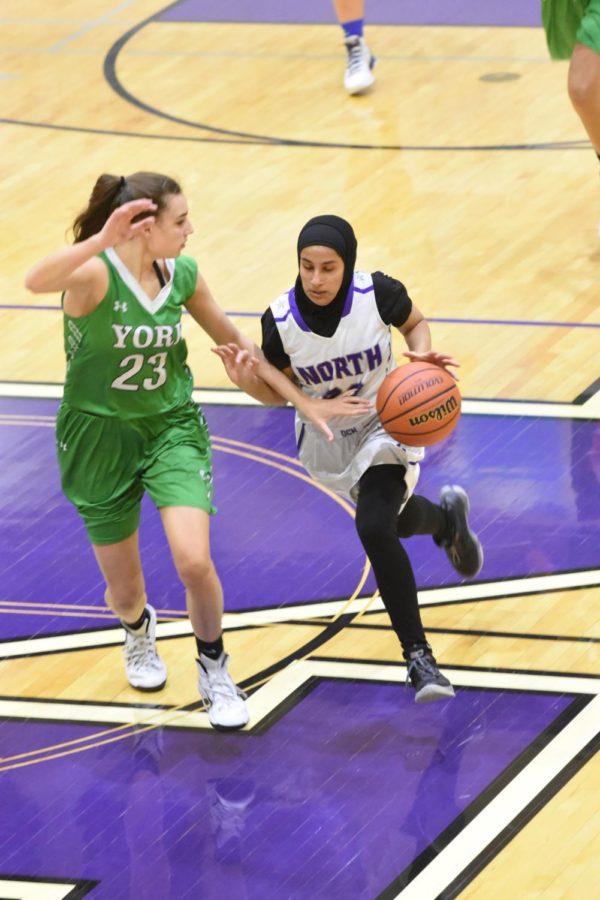 As sophomore Vasia Nabeel walks into her first day of high school basketball tryouts, she feels nervous about making the team so she can play the sport she loves. Three years ago, her brain was racked with thoughts about what people might think about her hijab and being on her first team.
Nabeel has played sports her entire life and now plays basketball and runs track. She loves the family feel of the basketball team. The most common question she gets about playing in a hijab is whether she can even play. Obviously, the answer is yes. The second is if it gets hot; it does.
"[Playing with a hijab] is really weird. But I've been playing on a team since 6th grade so I got used to it, but at the beginning it was really hard. I was always self-conscious about how I looked. But then it sort of got to the point where I didn't care anymore and I just started doing whatever I had to do and it felt good," Nabeel said.
Nabeel's basketball coach, Patrick Fleming, recognizes all the positive things she brings to the team.
"Vasia contributed energy and passion to our team. Her effort in games and practice is contagious. She was aggressive in getting to the basket and creates shots for her teammates," Fleming said.
Friend and teammate of Nabeel, sophomore Erin Miller, sees her as highly skilled with an infectious attitude.
"Vasia brings a positive attitude to all of our games and practices. We had a losing record but Vasia always stayed excited for the upcoming games even if we knew we would probably lose. Her positivity was very nice and refreshing, not many people on our team could stay positive and that's what made her different than everyone else," Miller said.
Her track coach and chemistry teacher, Bob Calder, is excited to see what Nabeel will do in her first DGN track season.
"In class she's pretty quiet, but I'd say she's dedicated and hardworking, kind of like what she is as an athlete," Calder said.
Nabeel's coaches, teammates and herself only see her hijab as a piece of fabric, not as anything that holds her back.