School musical takes audience to heaven
Hang on for a minute...we're trying to find some more stories you might like.
With an excellent script, impressive acting, and glitzy numbers the school production of "Sister Act" was one to remember. The nearly entire female cast proved the power and beauty women have on stage.
This rendition of "Sister Act" told the story of a misguided club singer, Deloris Van Cartier (Sarah Durbin) , who witnesses a murder by her mobster boyfriend Curtis (Billy Berberich). She is placed under witness protection by Eddie Souther a cop (Brendan Quealy) in a convent. Here Deloris meets several other nuns and challenged Mother Superior's (Lindsey LeBeda) traditional ways. In the convent, she discovers that singing can bring unity and sisters always have your back.
The bubbly and innocent Sister Mary Patrick (Isabelle LaBianco) left the audience laughing. All of the nuns offered comic relief in the musical.
Though the plot was predictable, the revised script incorporated inclusive jokes familiar to the audience, and creatively told the story in a way that didn't take away from the growth of Deloris, and kept the audience laughing.
The set design and costumes were simple but effective. The set consisted of a changing colored wall and different setting props such as a colorful stained glass church window, bar stools, counters, a jukebox, a graffitied wall, beds, tables, and the walls of a confession room that gave the illusion of different rooms. The several scene changes allowed the audience to feel as if they were moving through the streets and the church with the actors. Settings included the church, a street, several bar scenes, bedrooms, and a police station.
The costumes were simple at times, naturally as it tells the story of nuns, but glitz and glamor were appropriately added to numbers when necessary. Best costumes of the night included Deloris's green sequin show romper, Eddie Southers' red and white fantasy suit, and of course the gold nun dresses.
Though the acoustics of the performance faltered at times, the fading in and out of the mics didn't take away from the characters' strong performances. The cast performed well, with particularly amazing performances from Lindsey LeBeda as Mother Superior, and Brendan Quealy as Eddie Souther. Of course, Sarah Durbin deserves a great round of applause for her jaw-dropping performances as the lead. She commanded the stage and kept the audience highly energetic with her enthusiastic numbers.
About the Writer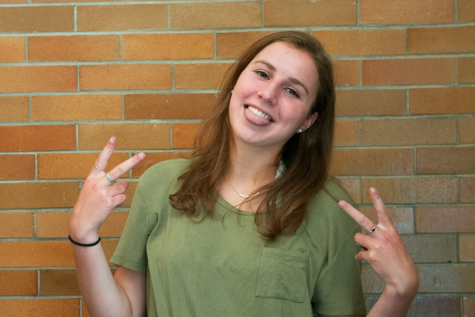 Sophia Karrow, In-Depth Editor
Sophia Karrow is in her senior year at DGN and her first year on The Omega staff. Outside of the newspaper, Sophia is involved in Cross Country and Track...