Pi Day isn't as sweet as it seems
Hang on for a minute...we're trying to find some more stories you might like.
Let's be honest, middle school is a soul-crushing hell. So when it came time for me to begin a life in high school, I was very excited to get a new start. However, my brother took my dreams and crushed them like a bull in a china shop.
If you didn't already know, my brother, Michael Schirle, holds the school Pi Day record and won the math department award. Every day freshman year I had to walk past the plaque with his name on it, taunting my very existence. It was almost as if his eyes were burning my very soul. I thought that would be the worst of it, but I was wrong.
Each year, the same torturous statement is said during the first math class roll call. "Kyle Schirle," says the teacher. I raise my hand, and to no surprise, the teacher follows by saying, "As in the brother of Michael Schirle, the kid with the school Pi Day record?". I am forced to respond with yes in great displeasure. After my class learns about his record they all talk in awe about his ability. Even though he's in college he still makes me feel inferior to my peers.
Many think that living in the shadow of the school Pi Day record holder isn't as bad as if it were the record for an athletic event. Well, let me ask you, how many athletic record holders do you know the names of? Also, does the athletic department have a shrine to your sibling? I think not. In the math department room, a photo of my blood-related nemesis stands surrounded by a mass number of pi digits. Now because of this taunting totem, I struggle to find the strength to go into the math resource room for help.
Every year I have a high expectation to break the school Pi Day record and put my own name on the list. Many think that is the only way I can break the cycle Michael has cursed me with. They would be wrong. First of all, I have a social life so dedicating hours of my life away from Fortnite is not an option. Also, the school Pi Day record isn't exactly the coolest record to be known for. If I have learned anything from Drake and Josh, people into school aren't cool in school.
So now you know my pain. You have walked a mile in my shoes, per say. Now when you see me in math class or sitting at your table remember not to cut open that old wound by asking the infamous and deadly question this Pi Day. "Hey doesn't your brother hold the school pi day record?"
About the Writer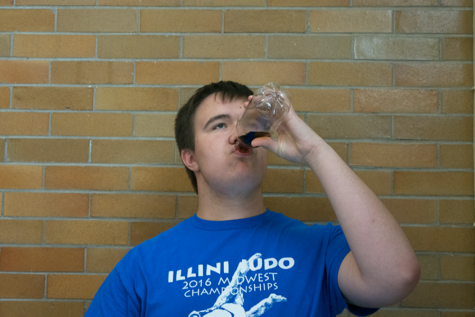 Kyle Schirle, A&E Editor
Senior Kyle Schirle enjoys going by: Kyle, Schirle, Kyle Schirle, Mr. Schirle, and that guy over there. When he is not writing for the Omega he is usually:...