Plugged In: Students struggle to detach from devices
Hang on for a minute...we're trying to find some more stories you might like.
When walking the halls, senior Marion Deal knows she doesn't fit the mold of the average student. Her feathered hair piece, half-shaved head and button proclaiming "Revisionist Cultural Marxist" are all clues to the fascinating life she must lead. However, the most shocking element of her appearance may be the most innocuous: a Discman that she constantly has in tow.
"I don't feel any strong attachment to my phone. The only reason I might is for music, and I have a Discman. I honestly have more attachment to my Discman than my phone," Deal said.
Deal is an obvious exception to the majority of teens. As of 2015, the Pew Research Center reported 24% of teens go online "nearly constantly", a result expedited by the presence of a smartphone in most teens' hands.
"I do think that a majority of my friends are addicted to their phones. They always have their phones in their hands, and I swear, they check their phone less than every five minutes," junior Kristina Barsketis said. "Okay, even my grandma can't live without her computer, and she's 91."
Barsketis has never owned her own phone. While she used to be jealous of her classmates, today it makes her feel unique. Still, she is able to have an Instagram using her mother's phone.
"I don't use Instagram that much like I used to. I mean, the longest time I haven't been on social media/my mom's phone was for two weeks," Barsketis said. "People would flip out if they could not use their social media/their phones at home or anywhere else."
"Flip out" may be a colloquial term, but technology's ability to hook people is very real. A 2016 study published by Frontiers in Psychiatry defined the potential for behavioral addiction that comes with technology. It showed the high positive reaction that a person feels when, for example, a picture of themselves is 'liked' contrasts the disappointment with having no notifications. Despite this emotional whiplash, people still cannot put their phones down.
"Usually I only get about four hours of sleep. I have to play at least two, three, four games of [NBA 2K18] before I go to sleep to feel complete. I don't know why," junior Tayveun Williams said. "I think it's a problem. I try to lay down without playing with it, but then I feel like I have to. I usually just sit on my phone and look at 2K videos for like 30 minutes."
These physical reactions are not as uncommon as one would think. In an online article authored by multiple professors from the United Kingdom and Milan, it that showed that stopping internet usage for people who used the internet extensively caused physiological reactions similar to the discontinuance of "many depressant substances; such as alcohol, cannabis, and opiate-based drugs."
"I can also say that I am 50% addicted to technology, too. So, I can't throw shade at my friends or my family. But, yes, my friends are addicted to technology, but what can you do?" Barsketis asked.
What can you do? The constant cycle of validation and disappointment may characterize technology as inescapable and destructive, but measures can be taken to put distance between a phone and oneself.
"Personally, when I'm out to dinner with a friend I'm usually the one saying, 'Can we put our phones down?' When I'm out to dinner with anyone my phone is faced down and on Do Not Disturb mode to the side," senior Sofia Conti said.
Despite efforts to unplug now and again, disengaging from phones and social media completely is near impossible. However, there are more constructive ways to use the internet.
Conti is another example of someone who uses technology to a more profound extent, using the app Instagram to promote her makeup artistry.
"When I did start to do my profile, I gained a lot more customers that were seeing the work I had done. I think it looks a lot more professional. Now there's a lot more people who can see my work, and I can assert myself as a young entrepreneur," Conti said.
Deal is the editor-in-chief for the Endeavor, a student-run, student-written publication. Deal believes that the newspaper is best suited to the online format because of the far-reaching nature of the internet.
"I think that all too often we look at technology as something evil, and it's not that. Technology is not inherently evil, it's just a tool that we're using, and we're using it wrong," Deal said.
About the Contributor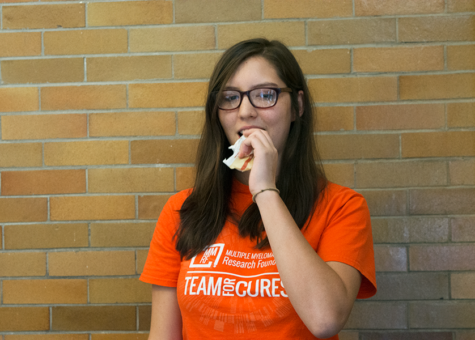 Sophia Di Iorio, In-Depth Editor/Graphics Editor
This will be senior Sophia Di Iorio's second year as an In-Depth as well as Graphics editor for the Omega. She hopes to contribute her best work to the...