Allegations leave students with questions
The Main Street parking lot is more cramped than usual on Nov. 28 as students stop their cars to pull up Snapchat and record the news van sitting outside the school. A tripod is set up on the corner of the Highland Street sidewalk to take shots of doors that held little media significance until now.
Two hours before the first Snapchats appeared on students' feeds, Superintendent Dr. Hank Thiele sent an email to District 99 students and staff with the subject line: Investigation at North High. The email addressed the ongoing investigation of a current DGN teacher accused of inappropriate behavior.
"In response, we immediately began gathering facts surrounding the concerns, and placed the teacher on administrative leave," Thiele said in the email.
1999 DGN alumna Jennifer Boudinot posted the original social media post that brought this potential misconduct to the district's attention. In a Facebook post published on Nov. 12, she wrote:
"Did you experience any sexual harassment or sexual contact from a teacher while you were at DGN–even comments that made you uncomfortable or had a relationship with a teacher that in retrospect 'went too far'? This happened to some friends of mine, and I'm trying to help find out how widespread these problems were, especially because we are concerned that there may be a teacher or teachers who are still preying on students today…."
After Boudinot's post spread, more women reached out to her, claiming they had experiences with a DGN teacher similar to the one she described. After initially agreeing to an email interview, Boudinot declined to comment for this story after advice from her lawyer.
However, she has spoken to local news stations. WGN, CBS and ABC reported that, more specifically, the allegations are for sexual relationships and sexual harassment.
Students were interviewed by WGN and CBS Chicago on Nov. 28 and ABC Eyewitness News Chicago the following day. Their stories included statements from the district and contact information on where to report sexual misconduct.
Principal Janice Schwarze met with The Omega's editors and emailed them a legally-reviewed statement about the allegations following the meeting.
"I know that a lot of students and staff have questions about the investigation. However, because it is a personnel issue we are unable to share details. Of course, if any student or staff member has concerns, I encourage them to see me or another trusted adult," Schwarze said in the statement.
District 99 documents do provide some clarification for the procedural questions students and community members may have. One of these being the decision of the district to put the teacher on administrative leave. Because there is an open investigation of the allegations made against the teacher, the Board of Education has placed the teacher under investigation on administrative leave, meaning that he is suspended with pay.
According to section 5.9 of the current teacher contract, "No teacher shall suffer a loss of pay except for just cause. Fringe benefits and wages will remain in force if a teacher is suspended pending a review of the case by the Board of Education."
A district board policy provides further clarification. As stated in Board Policy 5.24 in regards to Personnel, "The Board or Superintendent or designee may suspend a professional employee with pay during an investigation into allegations of disobedience or misconduct whenever the employee's continued presence in his or her position would not be in the School District's best interest."
Board Policy 5.24 under Suspension specifies that if the allegations are found to be true, the teacher will pay all money received on administrative leave back to the district.
The policy reads, "If a professional employee is suspended with pay, either voluntarily or involuntarily, pending the outcome of a criminal investigation or prosecution, and the employee is later dismissed as a result of his or her criminal conviction, the employee must repay to the district all compensation and the value of all benefits received by him or her during the suspension."
The district is in charge of giving students and parents updates on the allegations as they are legally allowed. Because of the privacy that must be kept in an open investigation, many are left with questions, each reacting to the situation differently.
Student council president senior Sarah Jaworski is saddened by the recent events and has struggled to find clarification. She also hopes that students will provide staff with as much support as has been given to students.
"The environment this past week has been tense. There always seems to be an 'elephant in the room'. As the days go on, I see progress and ease within the students as well as faculty. It will eventually go back to normal. There is no doubt in my mind that it won't," Jaworski said.
Junior Daniel Atwater noticed that things have somewhat gone back to normal, but there are consequences of the required privacy.
"The environment has calmed down and gotten closer to normal over the past week, but things are still a little confused and unsettled. I understand why we can't know exactly what happened, but unfortunately as an effect to this lack of knowledge, lots of rumors have been going around. Due to this, it's hard to determine what actually happened, versus what are just rumors. Personally, I am hopeful that in moving forward, the students can learn to neither dismiss nor engage in any rumors floating around the school until the concrete facts are released," Atwater said.
Senior Alyssa Moralde hopes students will not be afraid to discuss this serious topic.
"Right now, I think many students aren't reassured by the fact Mrs. Schwarze can't comment explicitly on the situation. I understand there is a policy, but I think transparency would help a lot of people cope with the news. I think it's important to have conversations about sexual harassment, and how people in positions of power can abuse it. I understand it's a sensitive topic, but anyone could be a victim," Moralde said.
Senior Michael Price felt shocked and betrayed when he heard the news about a teacher that he and all his classmates loved. He appreciated the administration reaching out, but did not feel it was effective.
"The talk that my class received from Mrs. Schwarze was both good and bad. It showed us that she, as well as all of the DGN staff, care about us and understand our emotions, but it did not tell us anything about what is going on. Nothing really came from the things that she said. I understand that she was unable to share any details about what is going on, but it would have been nice to hear more than 'the DGN staff and your peers are here for you,'" Price said.
The Omega will continue to cover this story as more information comes to light at www.dgnomega.org. Anyone with information is asked to contact the Downers Grove police at 630-434-5500.
About the Writer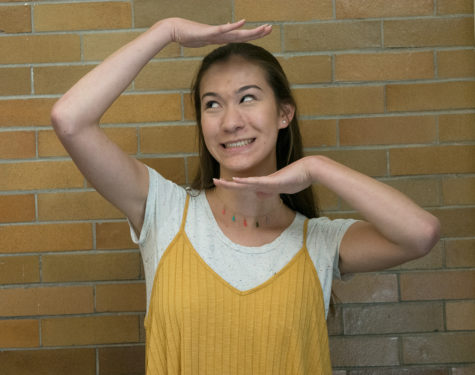 Sidney Lee, Editor-In-Chief
Sidney Lee is in her senior year at DGN and second year on The Omega staff. In addition to the newspaper, Sidney is on the Athena dance team and a member...