Changing of the guard: Briscoe takes over head coaching duties
Hang on for a minute...we're trying to find some more stories you might like.
On Sept. 21, athletic director Denise Kavanaugh announced that sophomore baseball coach and Special Services teacher, Kyle Briscoe, would be named the new varsity coach, replacing 18-year veteran Chad Isaacson.
Isaacson feels spending more time with family is most important, which was the main reason for him stepping down.
"My son has an opportunity to play volleyball in college, so I want to be at his games during all four years," Isaacson said.  
Briscoe has been looking forward to becoming the head coach since Isaacson hinted that he would be stepping down before the 2018 season after the 2015 season had concluded.
"I'm very excited [to be the head coach]," Briscoe said. "Having the interim tag was a great thing. I was able to learn a lot from being a head coach over the summer.  With [Coach Isaacson] stepping down, I have been making sure to take notes over the last few years in order to learn how the program runs."
Briscoe is a 2003 DGN graduate and has been with the baseball program as a coach since 2012. Being a three-sport athlete (football, basketball, baseball) in high school drew him to coaching. When Briscoe was a freshman, Isaacson was in his first year as head coach. After graduating from DePaul University with a degree in Special Education, Briscoe decided to pursue teaching and coaching. With him being at the coaching helm for baseball, he feels his DGN legacy has come full circle.
"Working under [Coach Isaacson] was a great thing and I think he's done a great job for 17 years with the program," Briscoe said. "I think I have a great rapport with the kids and can have the difficult conversations with them on and off the field since I am a lot younger."
Along with Briscoe being an alum, his brother Matt was a part of the 2004 State Championship football team, and his father was the captain of the football team in 1974. It's safe to say that athletics and the Briscoe family go together.
"I grew up going to football games [at Carstens Field] and other DGN games as a kid," Briscoe said. "I have taken lessons from John Wander, Pete Ventrelli, Paul Franson, and even Jim Thomas in order to create my own style of coaching."
Assistant coach Andrew Himes will remain on the varsity staff for the Trojans and has been with the program since 2012. Himes is excited to work with Briscoe again in familiar territory.
"I've been fortunate enough to work together [with Briscoe]," Himes said. "During our first year coaching together at DGN, Isaacson, myself, and Briscoe all coached together on varsity. Working together over the summer got us back into the swing of things and we are looking forward to the spring."
Briscoe's decision to pursue the head coaching position became apparent once Himes was on board.
"I would not have accepted the head coaching job had [Himes] not decided to come back," Briscoe said. "We have a great relationship and I feel we have a great staff overall for the upcoming season."
Senior and Lewis University commit 1B/P Nick Bacarella is excited to be coached by Briscoe and will miss Isaacson's presence every day during practice and games.
"I'm excited for Briscoe [to become the new coach] because he knows all of us really well," Bacarella said. "He coached us sophomore year, so he knows who to play and everything. I think he will be a good coach."
Senior 3B Sam Cogger feels he's learned some important lessons from Isaacson and hopes to carry them with him heading into the 2018 season.
"One of the most important lessons that [Coach Isaacson] taught me was hard work," Cogger said. Hard work is a huge part of life whether you are playing on the baseball field, in school, or in the business world."
Isaacson will miss being in the dugout every day but feels Briscoe will continue the foundation he set in 2000.
"Change is always a good thing, different voices is a good thing and I believe the kids are in good hands with Briscoe and he will lead them in the right direction," Isaacson said.
About the Writer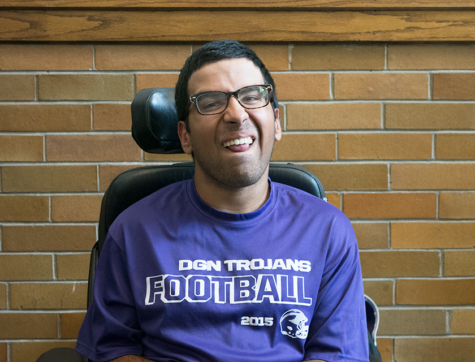 Zain Bando, Sports Editor
Senior Zain Bando is in his second year working with The Omega, but first as an official Staff Writer. In between watching UFC pay-per-views and NFL football,...