Rental air conditioning units cool rooms, remove humidity
Due to the earlier start of the school year, D99 spent $48,960 to rent 96 air conditioning units for four weeks. The money to fund the units and the labor needed came from an unanticipated extra $203,972 from state collected taxes given to the district.
Units were placed in DGN and turned on before classes started on Aug. 18. Associate principal Dr. Ken Sorensen, along with CMG and Aggreko, the local supplier, ran tests involving just one unit before turning on all the units to determine how much the the room cooled if turned on for one day.
French teacher Joel Kapitaniuk spends his day in the third floor foreign language hallway, a notoriously hot hallway according to students and teachers. However, his usual sweat towel is absent as the air conditioning units cooled his room.
"Anytime you're hot and sweaty, you get tired a lot faster. The kids have a harder time concentrating so by the end of the day, especially, the attention span is barely 15 to 20 minutes," Kapitaniuk said.
Senior Kaitlyn Hill experienced the heat of this hallway for four years. Hill felt unfocused in past years, but agreed with Kapitaniuk in saying conditions have improved this year.
"Having air conditioning in the language hallway has made it much easier to stay focused and comfortable in class during this first week of school, and because I haven't been hot all day long I've been able to pay closer attention during class and learn more," Hill said.
Although an email from Superintendent Dr. Hank Thiele on July 26 to students and families of D99 claimed the air conditioning units are "very quiet", Hill feels the noise is slightly disruptive. Yet, she acknowledged that portable air units are the best use of the district's money.
"The only negative thing about the air conditioning is the noise the units make which make it harder to hear teachers in certain classes. It would be nice if the units were quieter, but having cool classrooms outweighs any noise the units might make, in my opinion," Hill said.
The units will remain in place until Sept. 15, unless administration decides that it will continue to be hot enough to need them. Whether or not the units will be used next year will be determined after collecting feedback. Dr. Sorensen plans to meet with faculty after the units are removed to discuss the success and debate whether they will rent them next year.
"The units we have are the most powerful units we can put in a classroom just based on the energy usage, so anything bigger would require different power that we don't have in the classroom. Might there be situations where we need two units to cool it down? I haven't heard so, but we will hear when we debrief and consider for next year what might we do differently," Sorensen said.
The Master Facility Plan, a layout of renovations for both high schools, includes air conditioning implementation at both buildings, with a price tag of 4 million dollars just to cool DGN. There is still not an exact time frame as to when this would occur.
About the Writer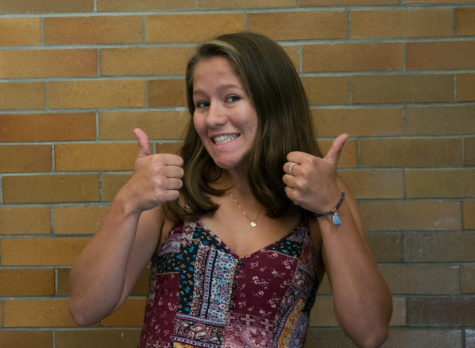 Natalie White, Editor-In-Chief
Senior Natalie White is on her third year on staff. In between naps and unnecessary food trips, she can be found in her car jamming to Beyoncé running...