Students weigh-in on Mayweather-McGregor
Hang on for a minute...we're trying to find some more stories you might like.
In sports, there is always one game or series that decides who is a champion in a respective league. In the NBA, two teams play a seven-game series. In the NHL, the same applies as well as the MLB. However, in combat sports, two fighters meet in the center of a ring or octagon with the goal of finishing their opponent or winning via the judges' scorecards.
On August 26, the most unlikely fight in the history of combat sports will occur as "The Notorious" Conor McGregor meets Floyd "Money" Mayweather at T-Mobile Arena in Las Vegas, NV.  Mayweather is 49-0 in professional boxing whereas McGregor is making his debut. McGregor is the current UFC lightweight and former UFC featherweight champion. Upsets have occurred in the past, but this one has potential to be the biggest one in the history of combat sports.
Longtime McGregor fan, senior Austin Novak, gave his thoughts on the fight and if McGregor has a chance to win.
"McGregor just has to make him look silly. " If he can make Floyd miss over and over, then I think he's done enough. McGregor has to have a quick start and bring the fight to Floyd. Floyd is quick though, so Conor has to fight smart and use his angles, as well as his unusual style to beat Mayweather. If he beats him, he can fight anyone," Novak said
With a massive fight comes the hype aspect. From July 11-14, the UFC and Mayweather Promotions teamed up to deliver a four-city press tour that consisted of Los Angeles, Toronto, Brooklyn, and London. Due to their polarizing personalities, the two superstars engaged in trash talk that consisted of racism, the IRS, and money among other things. While some fans have embraced the build-up, others have not.
Senior Kevin Sachtleben enjoys major sporting events. He feels this fight will live up to the hype and believes anything is possible once the fight actually begins.
"He [McGregor] has been an underdog before in his previous fights. "The money that this fight is generating is astronomical and I cannot wait to see what happens August 26. Floyd is a great fighter, but Conor has this belief that he can beat anyone. I am leaning towards McGregor because of it," Schatleben said.
At MGM Grand Casinos, 1,600 people have bet on McGregor while only 277 have bet on Mayweather according to the official sportsbook.  In addition, the fight is trending at over five million pay-per-view buys, according to Dave Metzler's Wrestling Observer.
Senior Sarah Jaworski has seen McGregor in action before. On August 20, 2016, McGregor avenged a March loss to fellow welterweight Nate Diaz, a fight that she certainly enjoyed.  Although she does not care about the actual fight on August 26, she feels its entertainment value will make her want to tune-in and watch it.
"I am probably cheering for McGregor because he seems like the underdog; It's always fun to see an underdog come out on top," Jaworski said.
The fight will be distributed all across the world on numerous platforms. Its price tag is 100 dollars in high-definition and is being built as "The Biggest Fight in Combat Sports History". According to Forbes, McGregor is expected to make 75 million whereas Mayweather is set to make 100 million dollars.
Update: Mayweather defeated McGregor by 10th-round TKO. The win put Mayweather at 50-0, breaking Rocky Marciano's record.
About the Writer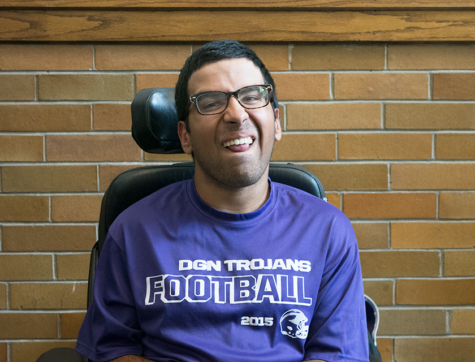 Zain Bando, Sports Editor
Senior Zain Bando is in his second year working with The Omega, but first as an official Staff Writer. In between watching UFC pay-per-views and NFL football,...