Facility renovations considered for D99 schools
The Master Facility Plan (MFP), estimated to cost 69.9 million dollars if the version presented to the BOE Oct. 19 is adopted, has been in the works for about two years and would involve renovations to DGN and DGS. The MFP has left students, staff and community members with lots of questions. According to DGN Associate Principal Dr. Ken Sorensen, the school board prompted the district 3-4 years ago to create an idea of what improvements they would like to see in both schools.
At DGN specifically, possible renovations may occur in the courtyard, library, cafeteria, study hall room 050, underground track, white gym, counseling services, college and career center, art rooms, bleachers, a small 3-story addition and press box. Additionally, with the current MFP, air-conditioning would be installed everywhere in the school except the field house and hallways. However, there are still many decisions to be made and all concepts are subject to change.
"At the time the Strategic Plan was developed, during the 2010-2011 school year, there was a lot of sentiment that we should review our facilities. Education is always changing; it is good practice to continue to evaluate educational facilities. It is also important to continue to renovate and improve public facilities so they last a long time. That protects the taxpayers' investment," Superintendent Mark McDonald said.
2.3 million dollars were introduced to be spent on renovating the bleachers at DGN, press box and possibly squad rooms, which are visiting team locker rooms at Carsten's Field. Approximately 1,000 seats may be added, the bleachers and press box may be moved center with Carsten's Field, which was moved a few yards north during the Master Site plan, which renovated outdoor facilities.
"[The bleachers] are old, they're small, and if we're installing new stands, more seating makes sense, if we're going to do that it makes sense to center them, and if it's possible to have squad rooms there because right now we have visiting teams using the garage and our team comes inside the building," said Associate Principal Dr. Ken Sorensen.
The basement of DGN is an area of concern for administrators, as well as faculty. The weight room may see a bigger electricity circuit to power the new cardio equipment the school has, and possibly a new underground track floor. Additionally, a cardio room may be added where classroom 050 is now which would be helpful as long as an entire class can fit into the room, according to physical education chairperson Courtney White.
"I don't know if there is quality to it [the underground track]. Quite frankly, it needs to be redone. We are years, when I say years I mean decades, behind other schools and how they set up their fitness facilities," said White.
One of the first drafts of the MFP included an extra gym facility. However, due to that draft of the MFP being too expensive, the extra gym facility was cut. During the winter season alone, boys' and girls' indoor track, cheerleading, boys' and girls' basketball, wrestling, Athenas, girls' gymnastics, boys' swimming and diving, Orchesis, Imani Steppers, winterguard, D99 Hoops, as well as off-season sports, are all competing for time and space to practice and train indoors on campus.
"I would love to have that extra gym back. I know they cut it [in the current version of the Master Facility Plan that was presented at the Oct. 19 Board of Education meeting], but if we were able to get a third facility it has to be multi-purpose, it has to be functional for PE and everything they do, and it has to be functional for athletics and everything they want to do," said White.
The courtyard may be removed and changed into a more student-friendly area. However, this change would shift the classes surrounding the current courtyard. It has not been exactly specified as to where these classrooms would go, but they may go where the new 3-story addition would be.
"The idea was to renovate all of [the courtyard area] and turn it into this commons area with access to student activities, counselors any other services. To do that, we have to tear out all of those visual arts classrooms, so we need to place them somewhere which has not ultimately been decided yet. The intent [of the changes] was not for visual arts, it was a product of repurposing all of that space," Sorensen said.
The social norm of upperclassmen sitting on the top level of the cafeteria and underclassmen sitting on the bottom may not be a concern anymore.
"This isn't final, but we'd like to get rid of the split level cafeteria and get rid of those steps and make it more open," Sorensen said. "The kitchen is small and the serving area is small and we'd like to enlarge that."
The administrators deemed the situation of trucks coming in and out of Prince unsafe. With the changes, the trucks would take an alternative route off of Prince to an updated loading dock which may be where the white gym is currently, according to Dr. Sorensen. With the current MFP, the white gym would be split into two levels. It is undecided as to where the gymnastics equipment would be moved, if the program stays on campus, or what the top level of the white gym would be used for.
"The [gymnastic] program's important, no doubt, but having one gym dedicated to gymnastics really puts us in a crunch. The thought of them possibly going off campus into a nice facility, it opens up some things for sure," said White.
The date for these renovations is not currently set. The next step in the plan is for the Board and administration to figure out what renovations are needed, and which are wanted. After that, they will come to a consensus and the timeframe will be more specified.
"There are more 'ideas' out than the school district can reasonably afford. In order to finalize the plan we need to gain consensus among the administration and Board of Education about what must be included versus what we would like to include. We have not yet reached that consensus," McDonald said.
The district currently does not have the money to complete all the renovations that have been proposed. They will try and obtain the money from the taxpayers of the community.
"The District may be able to do some of the work in the master facility plan by using operating funds–in layman's terms, the funds we use to run the school district every year. Most likely, however, moving forward with the plan will require asking the voters of the community to approve the sale of construction bonds which the taxpayers will repay with their tax dollars," said McDonald.
About the Writer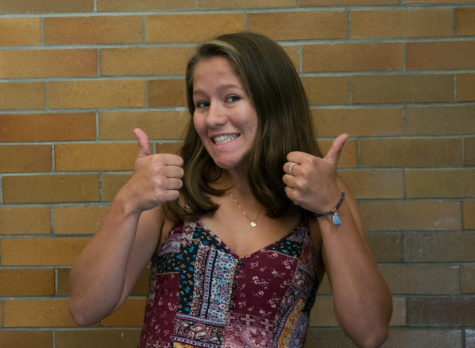 Natalie White, Editor-In-Chief
Senior Natalie White is on her third year on staff. In between naps and unnecessary food trips, she can be found in her car jamming to Beyoncé running...