Wrestling teaches more than moves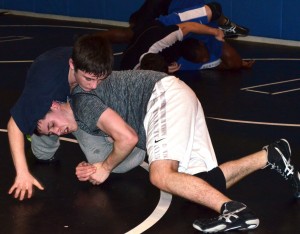 Behind the mats lining the bleachers of the pool balcony, boys' varsity wrestling practice starts with a speech and is followed by stretching and lots of failed front handsprings and cartwheels. Head coach Chris McGrath runs practice with three claps and one word: wrestle.
This year alone about 20 DGN wrestler alumni have visited the current wrestlers to help them through their struggles and inspire them to push even harder. McGrath and several of the other members of the team, believe it's the hard work they've put in and the lessons they gained from the program that inspires the alumni to keep returning.
"This is going to sound funny, but being a wrestler changes people. When you have really wrestled and given all of yourself to the sport, it becomes ingrained in who you are, the work ethic and perseverance. Seeing them come back is also a cool aspect of my job and validates all of the time we invest in this sport when they learned the lessons wrestling was meant to teach," McGrath said.
Senior captain Nick Ferguson attributes the effectiveness of the alumnis' speeches to the fact that many of the wrestlers go through the same struggles and battles while wrestling. This leaves them with the same life lessons.
"You want to come back and help kids overcome the things you overcame while you were there because wrestlers go through the same battles when they are working to get to that confidence level when they can start competing," Ferguson said.
The wrestlers' favorite components about being on the team range from the family feel the team has to the feeling when their hand is raised when they win at the end of the match. However, former DGN and Elmhurst College wrestler Maxx Lozano stated that what ultimately sets wrestling apart is the personal lessons you gain from the sport. These lessons are what motivates him to come back and help coach the team.
"I think the biggest lesson I learned from wrestling is staying tough and knowing things will end," Lozano said. "The way I look at being tough, from what I learned through wrestling, is mentally tough: how to keep a level head and clear mind in the most stressful times and being able to grind things out."
However, the life lessons do not wait until one's wrestling career is over to set in. The atmosphere of competing on the wrestling mat and competing against another athlete shapes wrestlers' character more than anything, according to McGrath.
"I respect all athletes in the building that are pushing themselves to get better each day. It takes a lot of guts to test yourself against your opponents. However, what sets wrestling apart is that it is so personal. Everyone in the room sees all of your strengths and weaknesses and there is nowhere to hide and no one to blame," McGrath said. "When a kid loses, he has to accept all of the responsibility as his own then go back and work to get better. When he accepts this equation, he becomes a better man, more responsible for his actions. I have witnessed dozens of young men go from frail freshmen to strong, confident seniors through this process of failing and bouncing back."
About the Writer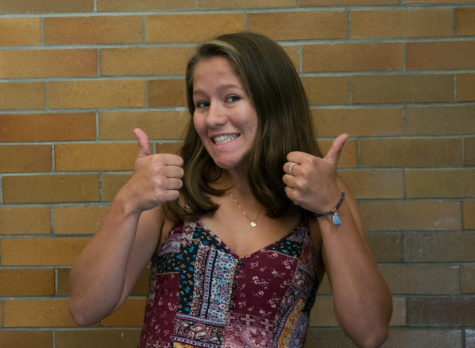 Natalie White, Editor-In-Chief
Senior Natalie White is on her third year on staff. In between naps and unnecessary food trips, she can be found in her car jamming to Beyoncé running...