LIGHTS OUT, POWER OUT: Lightning strike causes school-wide power outage, electrical damages at DGS
Hang on for a minute...we're trying to find some more stories you might like.
After a lightning strike caused downed power lines on 63rd St., Downers Grove South  lost partial power starting at the end of third period and lasting for the rest of the day on April 9.
The strike blew a fuse in a transformer that provides power to a portion of the school, causing damage to electrical appliances. Students remained at school for the duration of the school day, and ComEd shut the power off completely at 4 p.m. for maintenance.
"My classroom was on the second floor with a clear view of the [lightning] strike and we all saw it hit the ground just outside the school," sophomore Kimberly Nothdurft said. "When we saw it, everyone stopped for a second and then people were like, 'Did you just see that?!' and we all talked about how we wanted this to happen so we could get out of class."
In addition to a portion of the school losing power, electrical complications caused fire alarms to go off twice.
"I was in gym at the time in our basement weight room and some of the lights flickered suddenly and then went out," senior Ryan Heneghan said. "Three minutes later, the fire alarm goes off. We had to go outside but we were only out there for like ten minutes because it started to rain. When we went back inside, all of the lights were still off, not all of them but a lot of random ones."
After an initial alarm, a second alarm sounded. Students were informed by staff that the alarms were going off unintentionally and everyone should remain in the building.
According to District 99 superintendent Mark McDonald, the technological difficulties that resulted from the lightning strike did not compromise student safety at anytime.
"Any time I have been involved in a power outage at a school building, the response has been to wait until the power goes back on.  I believe students are safest at school and thus I have never seen it as a viable option to dismiss school. This particular incident was the longest I can recall in which power was off, but because part of the building had power, students and staff adjusted and school went on," McDonald said.
Because there was always power in some parts of the building, students were told what bathrooms still functioned. Teachers were able to move students out of classrooms without power to try and continue class as normally as possible.
"I was in photography when it happened and about half of the computers lost power, including mine. It made it more difficult to meet the deadline because I lost an entire period worth of work time," senior Nolan Sturlis said.
By the next day, certain hallways and elevators at DGS were still not functioning due to the loss of power. As of April 14, all power is back on and electrical problems have been resolved.
"I anticipate both schools will from time to time have power outages," McDonald said. "I think the South administration and teachers handled the situation quite well.  I anticipate a similar response from either school if we should have a power outage in the future."
About the Writer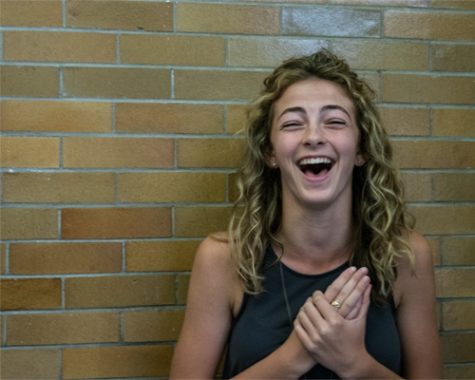 Abbe Murphy, Print Editor-in-Chief
This is Abbe's third year on staff. When Abbe isn't teaching someone how to use In Design or fixing picas, she can be found hurdling with the track...