Proviso West beats DGN with last second buzzer beater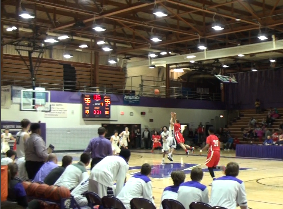 On Friday, Dec. 5 the Trojan basketball team played Proviso West at home in the purple gym. The game was close throughout the first three quarters but in the beginning of the fourth quarter the Panthers hit consecutive three point shots to take a ten point lead. With two minutes left in the game the Panthers had control. A turnover by the Trojans led to a fast break opportunity for Proviso. Senior guard Noah Isacson hustled down the court and blocked the Panther player's attempt at a dunk which shifted the momentum in favor of the Trojans. With ten seconds left in the game, the Trojans were down 55-53. The Trojans inbounded the ball and drove down the court. The ball was passed out to junior Devin Blake beyond the three point line. Blake took the shot and made it with 2.1 seconds left and it gave the Trojans a 56-55 lead.
Proviso West called a timeout to regroup and develop a strategy for the last play of the game. The Panthers inbounded the ball  to their senior guard Khalil Walker who dribbled to the half court line and chucked up a long shot. Walker's shot hit the backboard and went in as the buzzer went off signaling the end of the game. Proviso West won the game 58-56 and the handed the Trojans their first conference loss of the season.
Jake Stevenson | Sports Editor