Author connects with teen perspective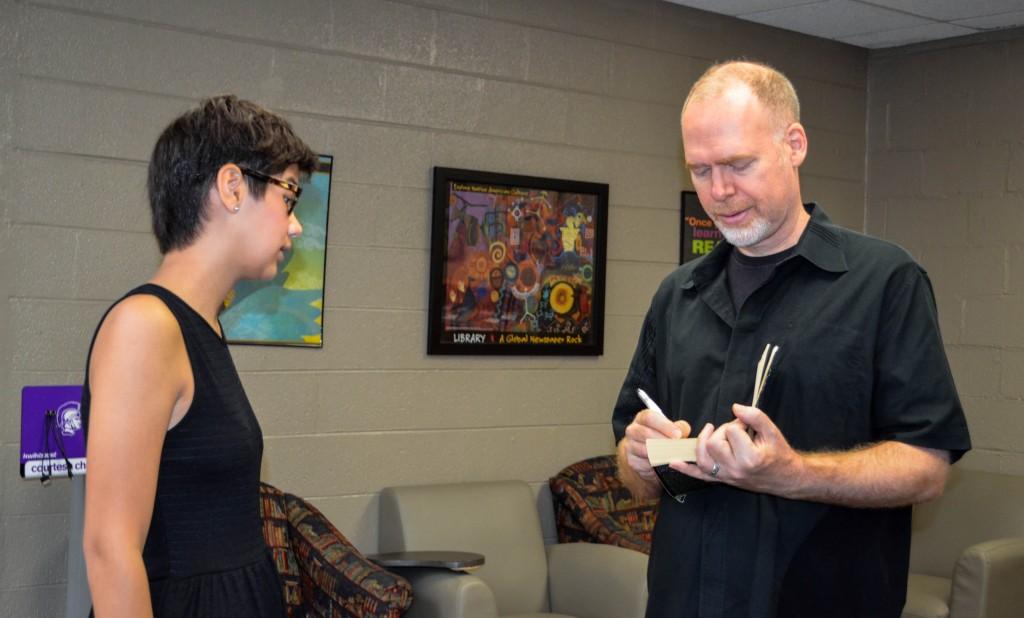 DGN's library was a happening place this month with visits from Adam Selzer, Simone Elkeles, and Scott Westerfeld. While Selzer and Elkeles focused on how to become a Young Adult author, Westefeld upped the ante by writing a book about the topic.
In his newest novel, "Afterworlds", Westerfeld tells the story of a high school senior Darcy Patel who writes her own YA novel, signs a publishing deal, and moves to New York City. Darcy's book is about Lizzie Scofield, a girl who survived a terrorist attack by pretending to be dead and shifting her consciousness into another plane of consciousness, the Afterworld. As a result of her transition she can now see and speak with the dead.
Westerfeld describes his novel as 'book-ceptiony' due to it being a book about a character who wrote a book, and the character's book is also in his book. However, intricate plots and interwoven books are not Westerfeld's first claim to fame. He is also the best-selling author of two YA series: "Uglies" and "Leviathan".
During his visit, Westerfeld stressed that he writes YA because he's trying to understand teenagers. As Westerfeld describes it, teenagers are new and uncharted territory in life.
"Teenagers are a pretty new thing, in the 1920s there was no word for a teenager, there were two stages of life kids and adults. You were a kid until about 12 or 13 years old and then you went to work or got married. And form that point on you were an adult," Westerfeld said.
Westerfeld explores topical issues such as technology, self-image, conformation, and self-discovery in his novels through the mysterious vessel of teenage life.
"What is interesting about teenagers is the world has such a moral panic about them. While they are trying to figure out who they are, they are trying to figure out who they are while experimenting with new things," Westerfeld said.
Even with the success that Westerfeld has enjoyed as an author he has no intention of slowing down. His next project is a collaboration with two Australian authors about a ragtag group of superheroes with unprecedented powers and problems that will hit shelves next year.
If Westerfeld's track record in YA is any indication, we'll surely be seeing another successful novel.
Eric Splavec | A&E Editor