Boygenius: "the record" album review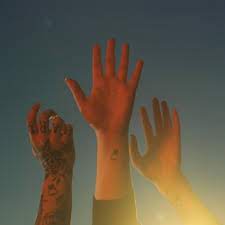 My first mistake in celebrating the release of "the record" was asking my friends "Have you listened to the new Phoebe Bridgers album?" Truly, I was listening for Phoebe but stayed for Lucy Dacus and Julien Baker who completed the group, Boygenius. This album is all about love, something the group writes in such a heavy but perfect way.
The album begins with some higher-paced songs. I love Phoebe Bridgers' and Lucy Dacus' solo work for the slow, depressing songs like "Moon Song" and "Night Shift" but I fell in love with "Emily I'm Sorry" and "Not Strong Enough", two songs with a faster pace on this album. Listening to these songs in the car creates an immersive experience thanks to Dolby Atmos (surround sound feature when using several speakers). 
"Cool About It" immediately became one of my favorite songs on "the record" as Julien Baker tells a story of falling in love. I smile at "Met you at the dive bar to go shoot some pool/And make fun of the cowboys with the neck tattoos" as Boygenius paints a scene of a first date full of nerves and emotion. It's a beautiful and realistic depiction of initial giddiness: "I'm trying to be cool about it/Feeling like an absolute fool about it". The song takes an inevitable sad turn, as the speaker realizes their partner is struggling and the relationship will ultimately never work out. 
Wincing at these beautifully written lyrics after experiencing nothing comparable to what Boygenius writes about is my new favorite pastime. The group is so real in every song and truly has a way with words.