Day in downtown: Naperville
Maybe it's my aspiration to live anywhere other than Downers Grove, or maybe it's a desire to find the best coffee I can get my hands on, but each weekend I find myself exploring a new suburban downtown area. 
I'll be venturing far and wide (within a 30 minute driving distance), to spend a "day in downtown" throughout the month of February to find the best nearby suburb to spend your day in. First up is Naperville. 
After a 15 minute drive from downtown Downers Grove's Main street, you'll find yourself in the town of Naperville. Home to both Benedictine and North Central, the area is filled with college-aged young adults but also a fair share of wild middle schoolers. 
I started my Sunday in Naperville at Sparrow Coffee. After ordering a cappuccino and biscuit I sat down and began to do some homework on a bench near the door. To say the shop was busy would be an understatement. It was completely packed and if it wasn't for some handy noise-canceling headphones, I wouldn't have been able to get anything done. 
At last, my food and coffee was called out and it was truly superb. It's hard to find a coffee shop that has both good coffee and good food, and Sparrow exceeded my expectations. I stayed for about an hour then ventured out to see what else I could find nearby.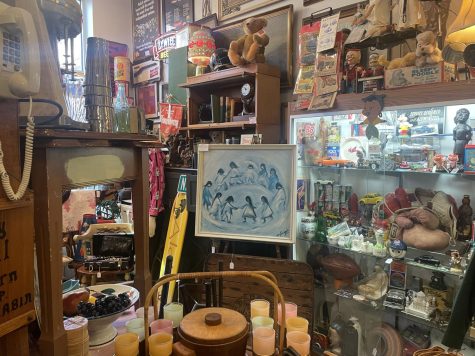 I, like many other teenagers my age, have been going to downtown Naperville since I was 13. On this trip specifically I wanted to find places I hadn't seen before. I avoided the classic Riverwalk and "Cookie Dough Creations" shops that mark a typical trip to Naperville and instead visited "Antiques of Naperville".
Nestled among various entrances to a luxury hotel, this antique store is definitely one of the most unique stores I've been to in the Chicago suburbs. From vintage jackets to a brass trumpet from the 50s, this antique shop had a surprise around every corner. The owner was welcoming and sociable as I perused the collection of vintage items. 
Overall, my day in Naperville was enjoyable. The town has tons of shops and restaurants to entertain you for hours, but due to its modern vibe, it doesn't have that small town charm that I love. Stay tuned for next week when I venture to the next suburb.