Mask Mayhem: Tensions rise as mask-optional policies develop
A Sangamon County Circuit Court judge issued a temporary restraining order to the statewide mask mandate within Illinois schools Feb. 4. The following Monday, although the District 99 Board of Education maintained its own mask mandate, some students chose to attend class without masks, bringing the mask debate to the heart of DGN education.
District 99's special board meeting held Feb. 14 reflected this same tension as a result of the mask mandate. Several community members vocalized their opinions on the topic of mask mandates. The Board ultimately voted to adopt a mask-optional policy starting Feb. 28.
Before the Feb. 14 board meeting, students protested the mask mandated by attending school without masks and refusing to put them on when prompted by staff members. The District decided to accommodate these students by moving them to alternate learning settings. Junior Joey McCormick was one of these students.
"I feel like I saw an increase in tension at the beginning of the week when we didn't wear masks. I felt that our rights were taken away from us when we couldn't make a choice if we wanted to wear it or not," McCormick said.
Relationships between students and teachers have also experienced friction as a result of differences in mask beliefs disrupting classes or provoking arguments.
"Some teachers press really hard [for the masks to be worn] but others just don't care, so then if you have a student that doesn't want to wear it and a teacher that is strict with wanting it, it could cause conflict," senior Tiffany Holmstrom said.
The tension throughout classrooms prompted principal Dr. Courtney DeMent to deliver messages encouraging kindness and respect during the morning announcements twice in the weeks following the Feb. 4 temporary restraining order. 
"
…[a tense environment] is not the environment that we want to create here at DGN.
— Principal Courtney DeMent
"I wanted our students to remember that generally speaking, we are all very supportive of each other and [a tense environment] is not the environment that we want to create here at DGN," DeMent said. 
However, it seems that not everyone is heeding DeMent's messages of kindness. At the Feb. 14 meeting, senior Brooks Johnson addressed the Board in support of the mask-optional policy and spoke about his personal interactions with students who had opposing views on masks.
"Many mask-required supporters have consistently delivered hate and threats to myself and [other students who choose to not wear masks]," Johnson said.
Senior Jade Toledano has also noticed more tension and division within the community. Toledano, who plans to continue wearing a mask, thinks there has been a lack of respect and understanding from people on both sides of the debate.
"I think it's important for everyone to feel safe in this time where many people's health is at risk. I know people who have family members who are immunocompromised and are scared of getting them sick. Many people's concerns stem from fear of their health and others," Toledano said.
There has also been backlash directed towards the administration as a result of their decision to move students without masks to alternative learning settings, such as room 050 and the auditorium. 
Students were allowed to learn asynchronously from these alternative learning settings without being marked unexcused from their classes. Beginning Feb. 11, the District changed this policy.
"Students who choose to remove themselves from the classroom setting by not abiding by school rules, including wearing a mask, will begin to accumulate unexcused absences from class and will be subject to the appropriate disciplinary consequences and outcomes associated with that behavior," a Feb. 10 email from the District stated.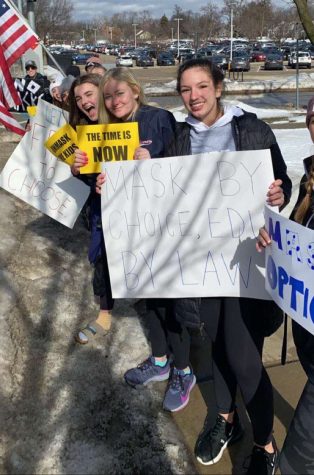 DeMent notes that the initial choice to allow students to learn asynchronously was prompted by the administration's desire to accommodate students and give them the chance to speak about the issue, but that it was an unsustainable solution. 
"[The protest] was filled with an incredible amount of emotion and so we wanted to give students a chance to speak their minds. However we didn't see the group lessening, we didn't see any change so we couldn't keep it up… it was a disruption, it was a major disruption," DeMent said.
Although many students refusing to wear masks viewed the decision to wear a mask as a personal choice that the school is not allowed to enforce, DeMent points out that the school must enforce this mandate.
"At the end of the day, [students refusing to wear a mask] are choosing not to follow a school rule. That's a Board policy. I'm obligated as an employee of this district and as principal of this high school to make sure students are following Board policy," DeMent said.
Prior to entering the current mask-optional setting, the administration reiterated its commitment to making sure all students are comfortable within the walls of DGN.
"I know that there will be students who have a higher level of discomfort [with the mask-optional policy] and we have worked to talk to those students, identify who they are, and create plans with them about how they can feel safe here at school," DeMent said.
Free KN95 masks will be available to all students in the bookstore during this week, and the administration encourages students who feel uncomfortable to reach out to a member of the counseling department so they may assist in the transition to mask-optional. 
The Board "respectfully recommends" that students continue to wear masks.