Humans of DGN: Mariela Siegert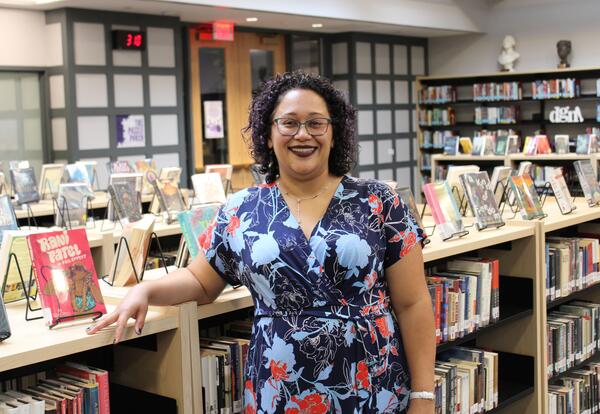 In early October, DGN librarian Mariela Siegert was named "Illinois School Library Educator of the Year." This honor, presented by the Association of Illinois School Library Educators  (AISLE) in recognition of Siegert's outstanding service and leadership contributions and school library profession. 
"She just infuses warmth and humor [in her lessons]," DGN librarian Allison Bava said. "Even when she's having to help a student with something challenging, they are able to take that risk because they aren't afraid to ask her questions," DGN librarian Allison Bava said. 
While she primarily works with students in the library and classrooms, Siegert supports not only students but also future librarians. According to an article published by shawlocal.com, Siegert also teaches a technology class and a graphic novels class at Dominican University as an adjunct professor. 
"I do my job and I love my job. I think that shows but I don't expect other people to think that I'm doing something amazing. So, I was very shocked," Siegert said.
Along with students and colleagues, principal Dr. Courtney DeMent takes pride in Siegert's recent accomplishments. 
"Mariela goes above and beyond for our students every day," DeMent said in an article published on the District website. "It's validating for an outside organization to recognize her talent and contributions." 
 While she's only been at North for two years, Siegert's relationship with students and willingness to communicate has allowed her to assimilate with the DGN library staff. 
"I completely love the staff in the library; they're super nice. Every time we ask them questions, they're there with an answer," junior Luke Janowicz said. 
Before she began working at DGN, Siegert worked at Burlington Central Middle School as an eighth-grade language arts teacher for three years. However, after she realized that she loved teaching kids but didn't enjoy certain aspects of the traditional teaching position, Siegert left Burlington Central to become a librarian at Westfield Middle School, where she worked for 12 years. 
Kent Herron-Cologna, a former student of Westfield, met Siegert at a classroom book talk when he was in sixth grade. As he went through middle school, Herron-Cologna noticed Siegert's skill of creating strong bonds with students.
"She was always willing to talk about literally anything related to books and media with students," Herron-Cologna said.