Humans of DGN: Violet Mitchell keeps optimistic outlook with torn ACL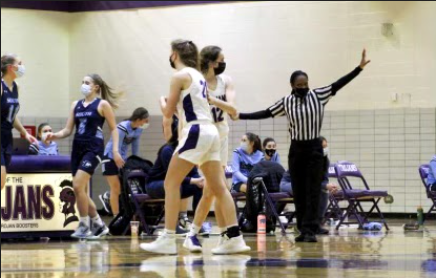 Junior Violet Mitchell was preparing for her 2nd year on the varsity basketball team, spending time at tournaments across the country to ensure she was on her 'A' game for the upcoming season. Just a few weeks later Mitchell found herself coming out of surgery with not only a torn ACL but also a torn meniscus. 
Mitchell was in Washington D.C for a basketball tournament with her teammates when the injury occurred.
 "I got a steal, went up for a layup, felt a pop, and that was that. At the moment, it did not feel like a big deal." Mitchell said. 
Before going into surgery, Mitchell had thought she had only torn her ACL and would have about three days on crutches before she'd be able to walk on her own.  
Now with the addition of her torn meniscus she will spend about six weeks on crutches out of her eight month recovery period. 
"Recovery involves a lot of physical therapy, mental toughness, and perseverance. I know that I will become stronger from this, and that is what is keeping me going." Mitchell said. 
Friend and teammate, junior Maggie Fleming, believes that Mitchell's motivation is what keeps her team upbeat both on and off the court. 
"She's such a genuine person; everything she does is sincere. She pours her heart into things she cares about which makes her very determined and passionate." Fleming said. 
Mitchell's optimistic outlook on life goes beyond her personal self-growth. After having an interest in motivating others, Mitchell got the idea to create inspirational social media accounts to spread positivity to her followers. Soon, "loveyourlife_violetmitchell" was on both Instagram and TikTok. 
"All my life, I have always loved motivating people to become the best versions of themselves. When I was little, I would take my family's iPad, and I would make motivational videos." Mitchell said. 
Although the Instagram account is no longer in use due to complications with Mitchell's schedule and posting regularly, Mitchell's inspiration to encourage others continues to grow. Whether it be waving at people in the hallways or taking that extra step to help out, Mitchell's ultimate goal is to spread positivity everywhere she goes. 
"Whether it's at school, work, sports, I want to make people smile," Mitchell said, "that is what motivates me to wake up in the morning. And of course, coffee too."