DGN outlasts Hoffman Estates, wins 24-21 in shootout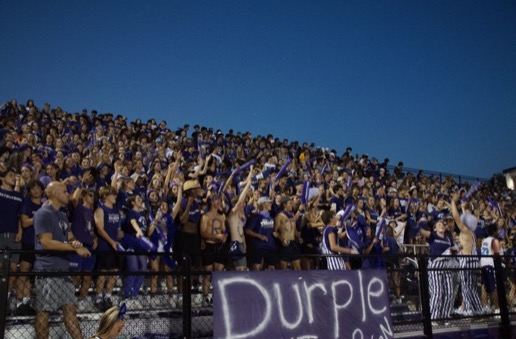 It was a great night for football as DGN's Varsity team played in front of a packed home crowd for the first time since October 2019. The energy of North's student section was matched on the field as they beat the Hawks 24-21. It was a balanced scoring effort as three different Trojans scored touchdowns and kicker Sean Ryniec added 6 points from kicks. Defensive players shined as linebacker Dylan Wendt recorded three tackles for loss and a sack and safety Joe Chiarelli blocked a PAT and made the game-winning interception.
DGN struck first with a field goal with three minutes left in the first quarter. The scoring drive began after Chiarelli forced a Hoffman fumble that was recovered by linebacker Thomas Williams. Jimmy Janicki converted a 4th down with a fake punt run to set up the Trojan field goal.
DGN's lead didn't last long, as Hoffman receiver Jashawn Johnson put the Hawks on the board early in the second quarter with a fake punt of their own. Trojans immediately answered as returner Brooks Johnson took the kickoff 80 yards to the house to regain a three-point lead. Jashawn Johnson would catch another touchdown pass later in the quarter, this time on a 4th and 13 with six minutes left in the half. Joe Chiarelli blocked the ensuing extra point attempt to limit the deficit to just 6; Hoffman led 13-10 entering halftime.
Four minutes into the second half, Trojan QB Sam Reichert ran over 50 yards to the house on an option play. Hoffman again scored another touchdown and this time added a successful two-point conversion attempt to go up 21-17. The back and forth scoring continued as running back Khalil Copeland found the endzone for DGN's third TD of the game.
The lead was briefly jeopardized as a Trojan fumble put the ball back into the hands of Hoffman with 5:31 left in the fourth quarter. To cap off his already stellar performance this game, Chiarelli quickly made an interception and then later sealed the game by converting a fourth down that allowed DGN to run out the clock. 
The Trojans are back at home again next week as they take on the 0-1 Willowbrook Warriors for their second straight non-conference game.