Girls' JV1 cross country team goes undefeated
"We were all just so thankful that we were able to run in meets which caused us to push ourselves." Junior Elena Tomchek said. "Being undefeated is super exciting especially because everyone worked so hard this season and it was nice to see everyone's hard work paying off."
Due to COVID restrictions, girls' JV cross country was not able to hold a conference meet.  This year's season instead ended with a dual meet at DGS Oct. 20, where the Trojans completed their undefeated season. 
They had a total of seven conference meets, including a 20-39 victory over Glenbard West, a 15-50 win against Hinsdale Central and a 18-44 win against Lyons Township earlier this season. In their last meet, sophomore Maddie Casey won the individual race with a time of 19:36. And as a team, they beat South with a total score of 24-31. 
Senior Hannah Schultz has ran cross country throughout her four years at DGN and has been a contributing member of the JV1 team. She explains that they had a great mindset for the race, and even had some sweet goals in mind when running. 
"What contributed to our success was our friendships and how close we grew to each other. We all wanted to push each other to be the best we could and win as a team which made us more motivated," Schultz said. "Plus our coach promised us ice cream if we went undefeated this season which definitely motivated all of us."
Head coach Timothy McDonald was very pleased with the team's accomplishments and had a great time watching them succeed.
"JV1 simply crushed it this year.  We had a lot of depth on our team this year and JV1 proved it," McDonald said. "Their success had a lot to do with some new people to the program coming in and the returnees really accepting them and making them feel like they were a big part of the team."
Junior Elena Tomchek joined cross country for the first time this year and is already planning to join again next year. She explains that her team used their last meet to test themselves. 
"During this race everyone's mindset was that this is our last race and our last time to prove ourselves," Tomchek said.
She was very happy not only for the team's success, but also her own. Her fastest time this season was 19:42 at the last meet. 
"This year, I got first place for every conference race which was a big deal for me. I also ended up beating my personal record by over a minute from the beginning of the season," Tomchek said. 
Along with Tomchek, Schultz reflects on her season with a positive attitude. Her last year of cross country wasn't the same as her others, but she still got to spend it with her friends. 
"I wouldn't say this season was better than the years before because we didn't get to have our big invite meets, but COVID did give us the opportunity to grow closer as a team," Schultz said. "I am really going to miss seeing my teammates everyday, but I was happy and proud of my team to end the season the way we did with being undefeated." 
McDonald explains that to begin with, the season was not what he expected. Now, he realized it has gone better than planned. 
"In the summer, I did not think we were even going to be allowed to have a season… Well now, we've had a dual meet season, a conference championship meet, and we have a regional meet this Saturday. I guess you could say the season surpassed my expectations and we had a lot of fun along the way." McDonald said. 
About the Contributor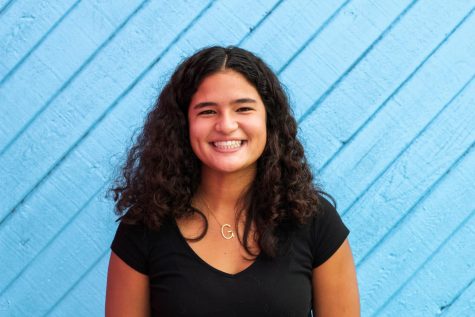 Gretchen Lucina, A&E Editor
Junior Gretchen Lucina is one of the A&E Editors for her first year on the Omega Staff. She spends most of her time at DGN being involved in dive,...