My future career is not a hobby
Jan. 25, 2017: the day I broke the news to my parents that I want to study acting in college. After I told them my news, I winced in fear of the laughter, disappointment, or just a general response from my parents. After a solid 15 seconds, my dad just smiled at me and said, "Isabelle, we know."
Whenever I tell someone I want to be an actor after college, I'm acknowledged with passive-aggressive good lucks, stories about how a niece or a nephew went into acting and found no jobs, or the essential, "Do you have a backup plan?"
I am not surprised I have received backlash. With the job industry booming with technology and STEM jobs, it seems almost rare when a prospective college student is not interested in this path. And much of it is because our media romanticized these jobs.
Before I was more forthcoming about my passion, I wanted to pursue biochemistry. It really wasn't because I liked science. It was simply because, with this major, I would eventually go to medical school. The reason I wanted to go to medical school: doctors make over six figures a year.
Looking back, I feel ashamed that was a reason why I wanted to become a doctor. I didn't have a desire to help the health or well-being of others, but rather for monetary reasons.
I thought I could convince myself that I didn't want to act. After acting lessons and camps, I couldn't imagine doing anything else.
An advertisement put out by Wells Fargo Banking had campaigned photos of two teenagers including a slogan of "An actor yesterday. A botanist today." and "A ballerina yesterday. An engineer today."
The theatre community took much offense to this advertisement. Many artists took to Twitter, including Broadway actress, Cynthia Erivo, who tweeted "Apparently @WellsFargo doesn't think that an actor or ballerina require any work at all! Shame."
Wells Fargo did respond with an apology stating that the intention was to celebrate "Teen Financial Education Day," and promised to add more job aspirations to their advertisement.
Erivo did have a point. Any prospective acting student who wants to audition for college programs will have to face a series of auditions. In addition to my CommonApp and college-specific essays, I had to record pre-screenings of monologues and later audition for these schools. Some of the schools I am auditioning for only accept six female actors.
The thing that keeps me going is the people who tell me they can see me going places. They don't need to tell me that they see me winning Oscars or being on Broadway, but a simple, "I believe in you" is enough.
In this industry, you cannot expect anything. And it's a confusing concept: the insecurity, the patience, and the rejection.  Yet, I would rather live my life knowing I tried to pursue my passions, rather than asking "what if?"
About the Writer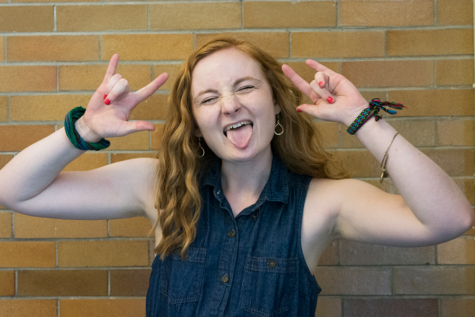 Isabelle LaBianco, News Editor
During her last months at DGN, Isabelle looks forward to late nights cramming for tests and balancing the responsibilities of being a five sport athlete....