STAFF EDITORIAL Taking a knee: It's a right seen as a wrong
Hang on for a minute...we're trying to find some more stories you might like.
Before the football game Sept. 29 at Oak Park River Forest High School, several players on the OPRF team knelt during the playing of the national anthem. The OPRF band didn't contribute to playing the anthem because they were kneeling as well. This trend is trickling down from NFL players all the way to highschool students.
Kneeling during the national anthem could be impolite gesture to veterans and those serving our country.
But kneeling is also a way for people to show their discontent with the ways our country has been treating minorities. Although this method of protest could be considered disrespectful, it's still protected under the United States Bill of Rights. The First Amendment secures freedom of speech and right to peaceful protest. When players choose to kneel they aren't breaking any laws, they are breaking a U.S. code that was made regarding what to do during the national anthem.
Similar to the anthem, an official code was also made for the flag. With help of over 68 organizations, under the protection of the National Americanism Commission of the American Legion, a United States Flag Code was created to conserve the symbol of the flag in all of its integrity. Basically, a whole bunch of people thought up a whole bunch of things that are disrespectful to the flag and how to steer clear of them.
According to the Flag Code, the flag should never be used in place of clothing, bedding, or drapery. Along with this, the flag should never be printed on napkins or anything of temporary use, or used as a decoration.
Americans are guilty of disrespecting the flag in one way or another. You most likely used or saw a flag-printed napkin or plate on Fourth of July. Although it isn't illegal to use these items, it is a disrespect to the flag according to the code.
You may think, how is using a flag printed napkin and kneeling during the national anthem similar issues? And to answer that question; It isn't. But both of these incidents are similar in the way that they break a U.S. code, one being the flag code and one being the U.S code in general regarding how you should act during the national anthem.
At our homecoming football game, students carried around flags because the theme for the game was USA. Students may not have known that draping the flag over their shoulders violates the flag code. But they still did it
Another instance of this is the recent surge of drivers placing the flag under the roof of their car. Technically, this would classify as a decoration, and directly goes against the flag code. This is just another example of a code being broken, yet it leads to no social repercussions compared to those of the kneeling players.
All Americans do things that can be potentially disrespectful to our country, whether we know it or not. This recent surge of kneeling during the national anthem is getting a lot of attention for being disrespectful, yet nobody is getting upset with the people using flag-themed napkins. Both scenarios depict someone "breaking a code", yet only one is getting backlash from it.
About the Writer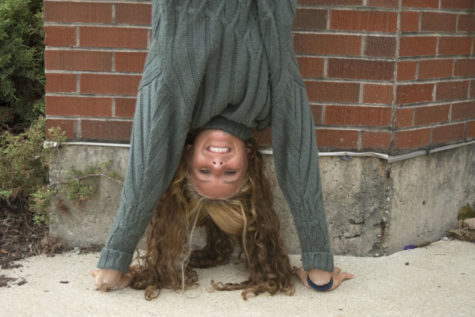 Sarah Rogoz, Editor-In-Chief
Senior Sarah Rogoz is on her second year on staff, and first year as Editor-In-Chief. As a member of the Cheerleading team as well as the Track & Field...