Wi-Fi bandwith expansion coming soon
Hang on for a minute...we're trying to find some more stories you might like.
Due to the increase in internet use over the past three years, District 99 is aware of the growing demand for a faster and more reliable internet. Whether students are using desktops, chromebooks or personal devices during a routine school day, the Wi-Fi bandwidth cannot keep up with the extensive Wi-Fi use.
The changes happening by winter break will double the current internet bandwidth at both DGN and DGS from 1000 megabits per second to 2000 Mbps.
Back in 2001, the district bandwidth was only three Mbps. Bandwidth is the maximum amount of data a network or internet connection can transfer. It measures how much data can be sent over a connection in a specific amount of time.
Rod Russeau, D99 Director of Technology and Information Services, oversees the internet expansion project.
"Envision cars moving along a two, three, or four lane highway.  Internet bandwidth, in this analogy, is a measure of how much traffic can flow over a given time influenced by the number of lanes; it's not a measure of the speed of individual cars as many factors can influence that," Russeau said.
The addition of nearly 5,000 devices in the past year is a big factor in deciding how much bandwidth is enough. Not only has there been an increase in technology, but also an increase in media resources accessed by students.
"We must remain proactive as the use of internet resources, and the level of media-rich content, are both growing exponentially.  We strive to stay ahead of that curve and assess our bandwidth usage annually as it is a mission-critical resource for teaching and learning. We made sure we had adequate internet resources in place before fully launching our 1:1 Learning program," Russeau said.
DGN has almost reached its network capacity during "peak" times. During the lunch periods, 60 to 70 percent of the bandwidth is used. Along with the bandwidth expanding, teachers will  be given access to Wi-Fi for their personal devices for educational purposes.
"Teachers have indicated that there are apps and resources available on their Smartphones that would be beneficial to their classroom instruction.  We want to support teacher efforts in this way.  Cellular signals are not always reliable in certain areas of the schools so Wi-Fi access will be more effective for these instructional applications," Russeau said.
Although teachers will be given access to Wi-Fi, students will not be given access. Before the 1:1 Learning program was launched, students had access to the open Wi-Fi network, which was used for personal devices, such as phones and personal laptops. This was taking up a big portion of the internet bandwidth that was in place at the time.
English teacher Melissa Jacobs was one of the Interdisciplinary teachers that had Chromebooks introduced into their classrooms in 2014. This was known as the "pilot program."
"In December of 2013 Mrs. Moore and I were told we were going to be the pilot class, then in January of 2014 we got the Chromebooks. We have never had that many devices on the router," Jacobs said.
"We have one router in room 208 and three in the connecting room because they can only hold 30 logins. The problem was, that we had huge classes, like 60 people and the guest Wi-Fi chromebooks connected too, could also be connected to by phones. That's why we had to have our students turn their cellphones off in order to log on."
Although Wi-Fi has been improved since 2013, Jacobs has experienced a few other problems that the doubling of bandwidth could possibly fix.
Frequent problems the teachers have experienced from the lack of data will hopefully be solved with the doubling of the bandwidth. In the past, teachers have had to stagger student logins during class, and change their lesson plans to accommodate to the slow wifi.
In the future, both staff and technology services hope to eliminate any problems concerning wifi bandwidth use and avoid classroom disruptions while promoting efficient learning. With winter break approaching fast, the plan is set to be done before students leave for the two week break.
About the Contributors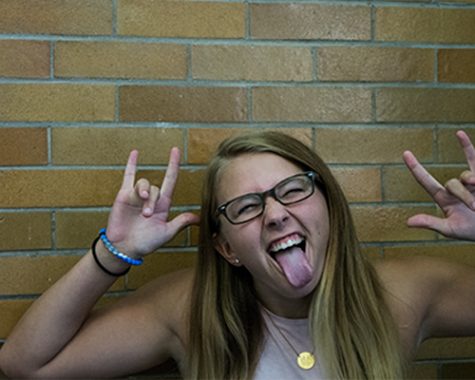 Kayla Lindberg, Social Media Editor
Social Media Editor Kayla Lindberg is in an English class with the legendary Bob Moss and sometimes has some gnarly skateboard tricks up her sleeve. When...
Madison Venckus, Feature Editor
Madison Venckus is a respectful, responsible and engaged senior and second year staff member of the DGN Omega. Beyond writing for the Omega, Madison partakes...