Students and faculty walk for a cause
Mama Bear Mitchell's Team–a combination of students, teachers and family members–took to the Chicago Lakefront on May 1. The team was founded to support English teacher Britni Mitchell, who was recently diagnosed with Multiple Sclerosis.
Mitchell informed her AVID class of her diagnosis in March.
"I had been absent a lot, in and out of the doctor, things like that. I let them know, because I've had them since they were freshmen, so I like to be transparent with them," Mitchell said.
There are around a total of 400,000 cases of MS in the United States, and no two cases of the disease are the same.
"You can have one person who gets severe migraines and is immobile, or you have someone like me who has what feels like shin splints on fire, and really achy pain and then extreme fatigue," Mitchell said.
Junior Evelyn Martinez is a student in Mitchell's English class who joined the group for Walk MS. She found out about the diagnosis from a classmate.
"I was really sad. Not even going to lie, I kind of cried. In Psychology we had talked about the myelin sheath, which affects MS patients, and Ms. Ricklefs had kind of given us the breakdown of what a person's life is like. It wasn't even weeks later that I found out that Ms. Mitchell had that too," Martinez said. "I kept thinking, 'Oh my gosh, why would such a great person have that?'"
Every year junior Yasmin Odtallah takes part in the walk for Autism. After searching for a walk for MS, she found Walk MS: a country wide event dedicated to finding an end to the disease. The next day, after Odtallah got the approval from Mitchell, she spread the word about her team.
"Ms. Mitchell has supported me in everything. This was my chance to support her and what she's going through. I approached her the next day and told her I created this team to support her, even if it was just me walking. I made sure that she was comfortable with people knowing what she was battling. I figured that most of our AVID class would love to join as well. I never expected it to be as big as it got," Odtallah said.
Odtallah spread the word about her idea. Students and teachers signed up for free online, and were also given the chance to donate. Shirts were crafted with the team name, Mama Bear's Team.
On the morning of the walk, the group of students met at the Main Street train station. Upon arriving a Union Station, they rode taxis over to meet Mitchell and her family at the event, which was located at the Chicago lakefront at Lincoln Park.
"My favorite part was my family getting to see the other part of my life. A lot of times you have your work family and you have the kids that you care for as a teacher, and then you have your home life. Very rarely are you able to have both of those lives in the same life. That, for me, was very awesome," Mitchell said.
The group has raised a total of $4,030. Anyone is welcome to donate until June.
About the Writer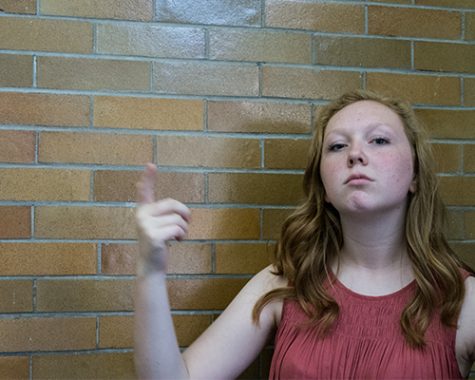 Fletcher Peters, Online Editor-in-Chief
In her final year at DGN, Fletcher Peters plans on tackling the Omega website, the Common Application, and watching the entirety of Seinfeld on free Hulu...