Missing Pieces: One student uses personal experience to fill in the gaps
Hang on for a minute...we're trying to find some more stories you might like.
After a year of being bullied and judged by his peers, sophomore Zach Steele realized students needed to learn more about autism. Using change.org, Steele created a petition aiming to start a program that would inform students about the disability. Over 2,000 people signed his petition, leading to the creation of Blue Puzzle, a club designed to mentor students about autism. When principal Scott Kasik learned about the petition, he emailed Steele and offered his support.
"As principal, one of the things that's extremely important to me is that every student does feel connected to North. Every student who walks through the doors in the morning should feel like this is a place where they belong, and this is a place where they're happy when they're here and they feel a connection to other people," said Kasik.
Steele said that kids judged him based on his disability. They called him weird and annoying and they made fun of the fact that he has autism.
"It was a constant battle. Every day I would walk the halls feeling miserable as can be, and I'd get made fun of all the time. I was done. I wanted to be heard, so I did the petition," Steele said.
About two months later, over two thousand people had signed Steele's petition. Most backers had family members dealing with a similar disability, are alumni, currently teach, or are students. Steele wasn't expecting that many signatures.
"I felt overwhelmed. I didn't expect as much, I was expecting at least 50 or 100, around there."
Steele wants to teach kids what these different disabilities are and show them that there is no real reason to be judgemental. He believes that students truly don't understand what it's like to have a disability, and this is the main issue behind students picking on their peers.
"Our goal is threefold: to provide awareness to people about what autism is, to support the kids who are autistic, and then to provide mentors to them," said Blue Puzzle sponsor Michele Geraghty.
The major event of the club will be the 'Week of Kindness'.
"When you have somebody with autism, one of the things they struggle with is initiating that conversation, starting to talk to somebody," said Kristen Virostko, another sponsor of Blue Puzzle. "So each day will be an introductory social skill to work on throughout that week just to make everybody a little more kind to each other."
The Week of Kindness will encourage students to do things like high five or say hello to five new people, and try to compliment as many people as possible.
"The blue means so many of them are depressed because they don't really fit in, and then the puzzle is because they're just one piece of a bigger picture. They don't know how the pieces fit together," said Geraghty.
The club will begin meeting a few weeks after homecoming. Be sure to listen to the announcements for more information or contact Geraghty ([email protected]) or Virostko ([email protected]) by email or stop by in room 223.
About the Writer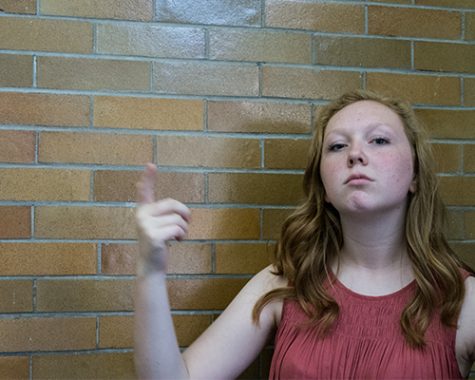 Fletcher Peters, Online Editor-in-Chief
In her final year at DGN, Fletcher Peters plans on tackling the Omega website, the Common Application, and watching the entirety of Seinfeld on free Hulu...