CTE: Department tailored to students
As the workforce beyond DGN has shifted from machines to AI, from commuting to working-from-home, and from keyboarding to coding,  so has the CTE department. Gone on are the days of textbooks and lectures; now students are making real connections out in the world through classes like Internships and INCubator. 
With the exception of the mandatory Consumer Ed credit, the CTE department's sole purpose is to give high school students opportunities to develop skills through electives.  Department chair Melissa Dameswood considers CTE a low-cost option to explore individual interests before college.
"A big part of my job is to look at career trends and then to translate those into courses for our students," Dameswood said. "Sometimes that means putting in a new course that hits with career trends for students to access. And sometimes it means modifying a current class to be more in alignment with what those career trends are, but in order to get students to enjoy those classes, we have to stay current."
CREATING COURSES 
With approximately 53% of DGN graduates moving on to a four-year college or university, 31% choosing a two-year school, and the remainder not choosing to go to school, the department tries to reflect those needs. 
Through programs like CWT (Career Workforce Training) and Intro to Teaching, the CTE department allows students to get a head start in prospective career options. They have also added courses like INCubator and Internship that allow students to work with and learn from professionals in their desired field. 
Along with her teammates Ava Gallwas (12), Joceyln Agustine (12) and Jaina Rattery (12), senior Bansri Patel is working on a product in INCubator that naturally accelerates the fruit ripening process. 
"We are meeting with Elan Industries to work out the design for our model, along with the costs of manufacturing. We are also working on marketing at the moment and we plan on reaching consumers through social media and getting traction to our website," Patel said. 
Because their class time is dedicated to producing their product, the day-to-day activities in an INCubator class vary. 
"We are allowed to go on field trips to Mission Produce in University Park, Zoom Univar (a global food chemical distributing company), and meet with an IP Lawyer who can guide us while creating a patent during class," Patel said. 
CONNECTING TO COMMUNITY
Patel is also involved in the Internship program where she works with Exit Realty. Internship teacher Larry Baca runs the course and places students into after-school internships that they are considering a career in.
There is a lot of networking involved to establish and build community partnerships to facilitate these internships," Baca said. "We focus heavily on work-life balance and finding a career they are passionate about that makes a meaningful contribution to society."
He has placed students with internships in law firms, engineering companies, 3D Design companies as well as trades. 
Dameswood accredits the community connection as to why many of the CTE classes are so successful in regards to student electives. 
"[Our classes] are community-based in general. When we can offer students a community relationship within a class embedded where they get to interact with people, maybe it's a career exploration, we produce. If we didn't produce you wouldn't sign up," Dameswood.
ADAPTING TO CHANGE
As the workforce continues to develop, the CTE department has expanded within the 3D animation and design field. They even added an additional higher-level class, 3D Design and Animation Studio for juniors and seniors to continue fine-tuning their design skills. 
"In our computer field, we found a huge area of growth in our 3D Design and Animation. That area has exploded for jobs; video game design, animation for TV shows, movies, podcasts. I mean, you name it, [there are] animations everywhere," Dameswood said.
Tapping into students' digital creativity, the 3D animation class focuses on learning new software and creating unique content. 
"In this day and age, most people have the access to create their own content and get it out into the world. This also means more and more companies that output 3D animations for various purposes need people who can perform the tasks," CTE teacher Matt Dillard said. 
Freshman Nathaniel Haubold was interested in working with technology before he signed up for the class and has decided to continue working with computers through the App Development class next year.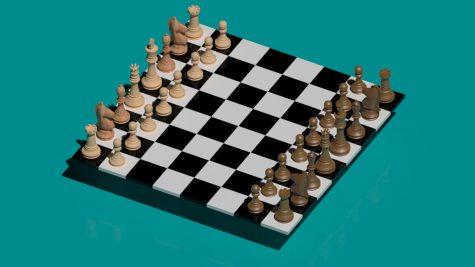 "I will be going to college to learn about computers, or something technology-related. [Through this class] I have learned how to render and how to use a lot of different tools," Haubold said. 
Even with the ever-changing department curriculum, Dameswood makes job security a priority. When there was lower enrollment in certain classes during e-learning and the hybrid schedule, some of the teachers were moved within the department in order to keep the current staff.
"We definitely moved a lot of pins around to make sure everyone was stable and safe. The end result is we did keep and protect everybody," Dameswood said. "Ultimately we care about kids, but we know that kids need quality teachers and a quality teacher needs to feel safe and secure."
Regardless of graduation requirements, the CTE department has kept high enrollment along with the ever-changing workforce. Creativity, community connections, and professional relationships drive the department to success, allowing high school students to experiment with paths beyond high school.