Braun, Cinotte, Cuchran lead DGN athletes into national signing period
November 18, 2020
As seniors decide where they are going to school next year, three athletes from DGN made it official and signed official letters with their preferred colleges for their designated sports. Blythe Braun, McKenna Cinotte, and Madison Cuchran signed Nov. 11, the first day of the start of the national signing period. 
Blythe Braun
"As cliche as it sounds, when I got on campus for the first time I knew this is where I wanted to play for the next 4 years," senior Blythe Braun said.
Braun made it official and signed to the University of Iowa for soccer. She verbally committed May 13 eight days after receiving her offer. For Braun, it has always been a dream to play soccer at the next level.  
"I love the culture in Iowa City and how everyone is so involved in the sports. It had always been a goal for me to play at a school in the BIG 10, but now after seeing what the University of Iowa has to offer I couldn't imagine being at any of the other schools," Braun said. 
Braun has been a starting goalie for DGN on varsity since sophomore year. Head coach Brian Papa explains Braun's hard work throughout the years, not only during the season but off-season also. 
"Blythe, as a freshman, was a very athletic player. She was just touching her potential as a goalkeeper," Papa said. "She worked very hard with her club team during the off-season and midway through her sophomore year, she started in our last 12 games. She was a big reason why our season turned around from a 2-8 start to an 8-4 finish."
Braun's varsity teammate, senior Abbie Peterson explains what she thinks about her hard work over the years.
"Blythe has worked so much on and off the field to better herself for soccer and I'm so happy for her that she was able to commit to play at a BIG 10 dream school of hers," Peterson said.
Braun signed her letter of commitment earlier this week. She explained how she is very excited to be playing with her teammates at Iowa. 
"I can't wait for the bond I will have with the girls on the team. I have been fortunate to play for various teams growing up, and each one has felt like a soccer family," Braun said. "I believe each team has helped me become not only a better player but also a better teammate and friend."
McKenna Cinotte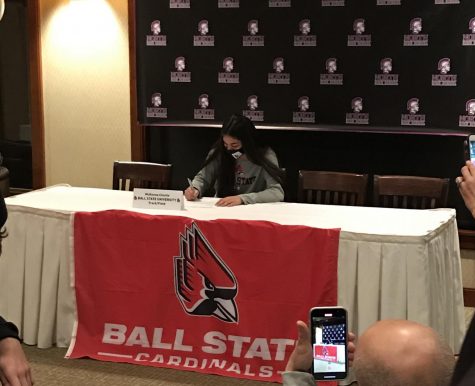 Senior McKenna Cinotte signed the National Letter of Intent to Ball State University, after receiving a full-ride offer Aug. 1 for track and field. She signed specifically for her specialties: triple jump and long jump. Cinotte explains why Ball State was the right choice for her. 
"The overall program and coaching was the main reason I chose BSU. Everything was so straight-forward there. The coaching staff showed how much they believed in me and went above and beyond with my recruiting than any other school," Cinotte said.
Not only did athletics impact her decision to Ball State, but the school's academic programs did as well.
"Ball state also has great academic programs. It seemed like the perfect school for me with both athletics and academics," Cinotte said. "I'm so excited to compete at the next level. I can't wait to get close with my teammates and succeed together."
Senior Mia Bowers, Cinotte's close friend on and off the track, has been pleased to see what Cinotte has accomplished throughout high school.
"I've gotten the chance to watch her improvement since freshman year, and I couldn't be more proud of her," Bowers said. 
For Cinotte, playing a sport in college has always been the goal. Though, she didn't know that track would be the one to make it come true. 
"I've always dreamed of doing a sport in college. Although, I always thought it would be for gymnastics. When I went to high school, I didn't expect to do a sport in college but then found track. I decided I wanted to continue my track and field career in college after my sophomore season," Cinotte said. 
Head girls track and field coach Matthew Maletich has been Cinotte's triple jump coach throughout her career at DGN, and reflected on her progress throughout the years.
"Kenna has made a commitment to improve every single year.  She is a very smart athlete and she takes the time to reflect on what she needs to improve," Maletich said. "She has set big goals and she has the desire, drive, smarts, and athletic ability to achieve them.  She is an exciting athlete because the best has yet to come."
Madison Cuchran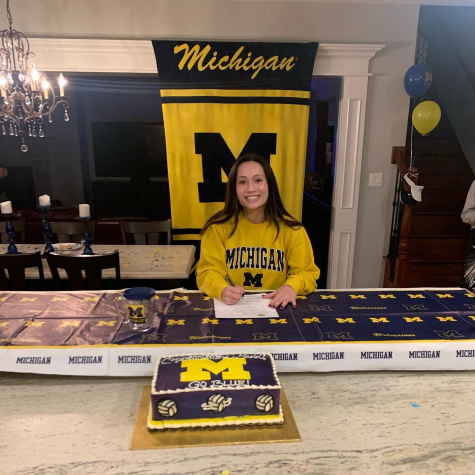 Along with Braun, senior Madison Cuchran signed a letter of commitment to the University of Michigan for volleyball. She verbally committed Sept. 9, 2019.
Cuchran has been DGN's starting libero (defense specialty) since her sophomore year and played at the state tournament in 2018 where they placed 2nd. Looking forward, she is excited to be playing at her D1 school.
"I am excited about a lot of things for college. I'd say a big part is being able to play at a BIG 10 university with some of the biggest fan crowds and [competition] against some of the best college volleyball players out there is exciting," Cuchran said.
For Cuchran, sports have always been a prominent part of her life due to her family, whether it be watching her sisters or playing the sport herself.
"My dad played at U of I for baseball and my older sister plays at Northwestern for softball and has been playing for as long as I remember," Cuchran said. "I would say because of the family I grew up in, sports has always been our favorite things to do and the thought of going to college for a sport has always seemed like an awesome thing to accomplish."
Senior Nora Long has played on varsity with Cuchran since she was a junior. Long explains how excited she is for her. 
"I'm so proud of her, she is always someone you can count on in practice and games to cheer you up and get you excited to play. I know she's going to do great at Michigan and I can't wait to cheer her on," Long said.
Along with Long, junior Sandy Brindl has been a close teammate of Cuchran and she is anxious to see what Cuchran will do in college. 
"I can't wait to see Maddi excel during her time at Michigan and watch her contribute her amazing skills to the team," Brindl said. 
Cuchran never really thought about the idea of playing a sport in college until her freshman year when the first college reached out to her. 
"First off, I didn't think I was good enough to go to a big school like Michigan but when the opportunity came to me, Michigan became my dream school. When comparing Michigan to the other schools I visited, Michigan's facilities, town, and people won by far," Cuchran said.
*More students have yet to sign; these are the first three this year. We officially celebrate all athletes continuing their college careers in athletics in May. Check back here for updates throughout the year on more DGN athletes committing.