Overcoming Online: Choir takes new steps towards singing success
September 10, 2020
Whether they're in the auditorium or from the comfort of their homes, DGN Choir singers continue their practice despite having to go online. Classes including Concert Choir, Treble Ensemble, Chamber Choir and A Capella Choir (Honors) have all adapted to new and ever-changing circumstances amidst the pandemic.
In response to last spring when teachers were encouraged to hold class asynchronously, synchronous classes are now required for remote classes. Choir rehearsals can now resume, but with a drastic change: no one can hear one another. Due to lag from computers and differing Wifi connections, students are required to mute their microphones while singing and are limited to only hearing teachers or the sound of the keyboard.
Although the shift to remote learning has been a challenge with technology and comfort level issues, Choir Director Frank Piekarz believes students are still motivated to sing. 
"Our students are flexible and are generally willing to take the risks necessary to be able to make singing part of their school day," Piekarz said. "Since our choir classes are elective in nature, there remains a strong desire to 'make all of this work,' and things are going quite well as we all try to figure out how to do this."
Being solo doesn't stop Treble Choir singer, junior Cora Lingenfelter, from considering choir the highlight of her day. 
"I'm so happy to be able to do choir despite the circumstances," Lingenfelter said. "I couldn't be more thankful for the efforts my directors have put into this school year."
Aside from the lack of face-to-face interaction, transitioning to online learning can pose a threat for students who have difficulties with internet connection, Chromebooks, or any other at-home factors and distractions. Sophomore Jon Isoniemi has Concert Choir in the mornings, a time when his family is busy moving in and out of the house.
"Our Wi-Fi isn't the greatest, so there's only one room [where] I can work effectively, but that's close to the front door where a lot of people move around," Isoniemi said. "Overall we make it work, and even though it's more distracting than in-school choir, my family does their best to give me space to work and sing."
A fellow member of Concert Choir, sophomore Daniel Figueroa Iribarren, has found another aspect of remote classes to be troublesome for his learning. 
"I'm more of a visual and audio-based learner, so I prefer to be in-person where I can hear and go off of other people," Figueroa Iribarren said. "Online school is preventing that so it's hard but I'm pushing through; emailing teachers for help makes things easier as well." 
In order to receive feedback from students, a platform called Pear Deck is being utilized so teachers can check in and answer any questions students may have. Growth and progress will also be evaluated virtually through recordings and assessments, taking on a more individualistic approach.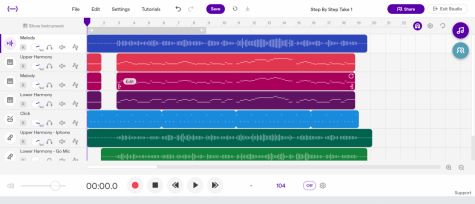 "I'm enjoying getting to respond more to individual questions and needs," fellow Director of Choirs Beth O'Riordan said. "Of course, nothing can replace the impact and learning that happens when we all sing together. But in making the best of things, I think we are seeing some positive results."
While such methods for feedback are beneficial, some students still miss the overall experience of real-time corrections. Consequently, singing skills may be impacted from person to person as a result of the lack of overall live critique this semester.
"Communication needs to be more specific to the individual, but teachers can only do so much, and students have to take initiative to reach out when they struggle," Isoniemi said. "Until we can safely do in-person learning, everyone's going to have to do their best in order to not fall behind—which is easier said than done—but in my experience, the teachers and district are doing pretty well at adapting to all the new challenges."
In terms of annual concerts, there are currently plans in the works to host virtual performances. Students will record their voices once all of the parts are well-learned, and the videos will be combined into a mass recording. All curricular choirs will sing a single set of music and auditioned ensembles will combine to learn a second set of pieces.
Against the odds of having to adjust to a virtual setting, Choir students will continue to grow and develop their voices online for the foreseeable future. There has not been a significant change in trends in regards to enrollment or drop out rates this semester, and the Choir program has continued to remain consistent in a time of uncertainty.