Winter Guard stuns with success
March 13, 2020
The DGN Winter Guard team has seen a great amount of success in their performances, for they have placed the top two at every competition they've attended.
For the first competition of the season, the Winter Guard team traveled to Naperville North and placed first in their class out of 8 teams.
"It was really validating for everyone, especially members who have never competed in winter guard before and didn't really know what to expect," coach Crystal Zaragoza said, "getting first helped with the concept of 'We can shoot for the possibility of moving up a class.'"
A main goal for the Winter Guard this season was to move up classes. Currently, the Winter Guard competes in the Scholastic Regional A (SRA) level, and they want to move up to the Scholastic A class.
"I've never seen a team so determined," Zaragoza said, "It makes you want to work even harder towards this common goal and doing really well and giving it your best effort."
Recently, the Winter Guard traveled to Lincoln-Way East to compete in the Winter Guard International, where teams from different states and countries attend, for their first appearance. The team competed in the Scholastic Regional A level, where they placed first in prelims and advanced to finals.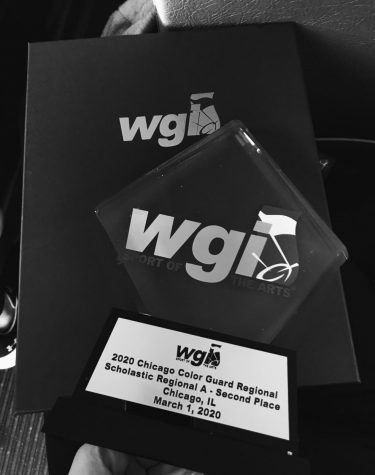 "We're in the Midwest Colorguard Circuit, which includes teams all over the midwest," sophomore Akshi Mistry said, "but [Winter Guard International] was such a big deal because it included teams from all around the world instead of around the region."
The next day, the team competed in the SRA finals where they placed second overall.
"We went into [Winter Guard International] with very low stress, so we weren't putting any expectations on ourselves to do well," senior captain Megan Murphy said, "but when we went to go look at the scores, I thought 'Oh my gosh, we really made an improvement. This team is really going to go far.'"
Each year, the Winter Guard performs a new story that stays consistent throughout the season. This year's performance is called Lonesome, which tells the story of heartbreak.
"It's something that I think everyone can relate to at some point in their life," junior Alyssa Miller said, "we hope to evoke that emotion and give our audience something beautiful that we've worked so hard on." 
After placing within the top two in every competition the Winter Guard attended, there are still areas of work where they want to improve on.
"One of our main goals is to have a completely dropless show which is really hard for any guard to do," junior captain Paige Larsen said, "but with every practice we have I can see the team getting closer and closer to a completely dropless show which is super exciting."