YouTuber visit inspires student content creators to explore multimedia as a hobby, career opportunity
December 18, 2019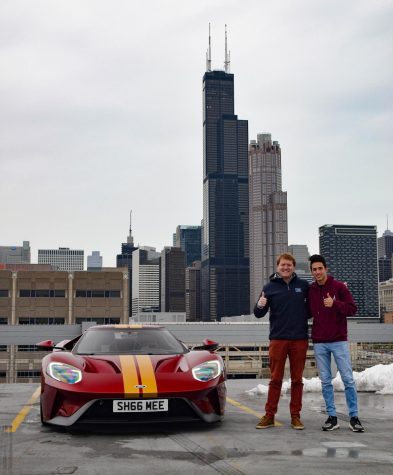 As he walks through the parking lot of a Chicagoland Mariano's, London YouTuber Tim Burton is grinning from ear to ear. At the far end of the lot, he can see his bright red 2019 Ford GT, valued at 1.2-million dollars, that he imported over the summer to drive across the country to promote his social media platforms, where he is better known as "Shmee150".
Burton bought the car primarily with money made off of YouTube, where he posts videos of car events and collections that he is invited to film all over the world. Chicago was the last stop on Burton's self-guided U.S. tour, which lasted almost four months and took him to dozens of cities across the country. And the best part? He was making money while doing it.
"Between gas, hotels, airfare, and other expenses, this trip has cost me nearly $110,000," Burton said during an Omega interview. "But on the flip side, I have made over $150,000 from all the videos I've produced while here, so it's been a massively beneficial experience."
YouTube mandates require that in order to receive ad revenue, a channel must be accepted into the YouTube Partner Program, have at least 1000 subscribers, and accumulate 4000 hours of watch time between all posted videos in the span of one year. Burton's channel has nearly two million subscribers, as of this writing, but he says that was never a focus of his and that it shouldn't always dictate how people use YouTube.
"I started my channel almost 10 years ago, before YouTube even had a way for users to make money," Burton said. "What I was filming was all done purely for enjoyment, and even though I now benefit financially from making videos, I still do it more for fun than the money aspect." 
As one of the first to successfully monetize his channel and make YouTube into a full-time career, Burton and others like him have inspired students to develop their own unique content.
Junior Gavin Crowson did a photoshoot for Burton during his Chicago stop, and over the years has made himself into a well-known figure at the local level as a content creator under 18 years old. By photographing for multiple brands including Downers Grove-based Soccer 2000 and McEw Strive out of Columbus, OH, Crowson is quickly building a portfolio that he hopes will help him make a career out of his passion.
"Already shooting for a few businesses and professionals in high school has been a great experience and is definitely something I want to do full-time," Crowson said. "They've definitely helped me to be able to work for and relate to adults, which helps a lot in being professional with them."
Crowson also takes pictures of home football games to share with his friends. And alongside him is senior Josh Gamonez, who has also made a big name for himself at DGN as a videographer for various school events. Gamonez occasionally posts edits to his own YouTube channel as well, which has just over 100 subscribers as of this writing. While he wants to expand it someday, Gamonez largely agrees with Burton.
"Making people happy is worth much more [than money]," Gamonez said. "Seeing the impact that my content makes is what keeps me going; I love such positive reactions."
Gamonez added that his passion was partially fueled by having taken the Digital Photography course during his sophomore year. The class is taught by Joshua Hoering who had both Crowson and Gamonez as students, and he has encouraged them along with dozens of others to try and pursue a career in content creation. 
"There's more of a market for photographers and videographers than ever before because of how fast and easy it is for people to access photos and videos," Hoering said. "Living a life doing what you love doing and making a living off of it is entirely possible, especially in the case of content creation."