Athletic Facility renovations begin
December 11, 2019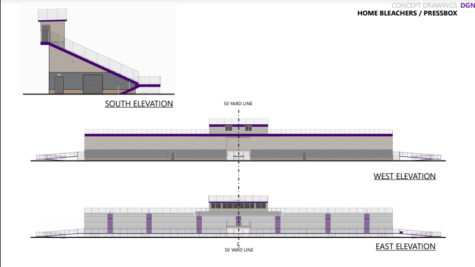 Carsten's Field's bleachers disappeared. The White Gym is no more.
So what's next for DGN? A new gym, larger athletic loft, and bleachers complete with squad rooms are on track to be completed by the start of 2020/21.
The Purple Gym will remain relatively untouched during construction and will continue to house home sporting events.
The south Purple Gym Balcony will be enlarged to hold gymnastics meets and practices.
The wrestling program will continue to use the enlarged balcony for practices. A new gym will be constructed next to the former White Gym.
The new gym will be smaller than the Purple Gym but have adequate space for a full-size basketball court.
The gym will not, however, have space for permanent bleachers. Portable bleachers will be used as needed.
Construction began at Carstens Field as the old bleachers were torn down.
The home bleachers will be centered on the 50-yard line, and offer squad rooms to home and visiting teams.
There will be one home squad room, one visitor's squad room, and a space for officials, complete with bathrooms in each.
The rooms are to be used during matches and games hosted on Carstens Field.
The home bleachers will not be completed for the upcoming spring season, so spectators will be seated in the visitors' stands.
The visitors' bleachers are also being updated but will be completed in time to be used by spring sports.
Both sets of bleachers are scheduled to be completed in time for graduation.
The enlarged loft and additional gym will be completed by the start of next school year.