TEAM PLAYER: Student contributes to teams through social media
Under the lights of a varsity football game, helmet-clad players sprawl across the sideline. Running backs, linemen and wide receivers all wait for their turn on the field. While they work to score touchdowns and halt the opposing team's offense on the field, another member of the team plays a different role from the sideline. That player is junior Zain Bando.
With his diagnosis of cerebral palsy, a congenital disorder that affects movement, muscle efficiency that left Bando wheelchair bound, Bando found an alternative way to express his die-hard love of sports and play a role on school sports teams: social media. In his two and a half years so far in high school, Bando worked for a variety of teams from volleyball to baseball. He hopes that these experiences and his passion for sports will lead him into a similar career in the future.
"My first love of sports really was just watching a Bears game and I really didn't know anything about football. I just thought it was one of the most exciting things I'd ever seen and I just wanted to learn more about it," Bando said.
In middle school, Bando began his coverage of sports, when a teacher encouraged him to start his own channel for sports announcing. Since middle school, Bando's career has grown to include both announcing and working social media for high school sports teams. Along with his work as public address announcer for volleyball this year, Bando ran his own live update twitter account for the varsity football team called Trojan FB Live.
"What he has done with [Twitter] has been phenomenal," varsity football coach Keith Lichtenberg said. "Not only does he update games but he provides video of things and makes these great video recaps of each game. He's really just been talented. It has allowed him to do what he likes but it's also promoting our program. The kids love it because they see pictures of themselves and so that's been great."
Varsity football player senior Jack Casey, a close friend of Bando's, recognizes the importance of Bando's role on the team.
"He was the first one on the sideline to pick us up when we were down and the first one to celebrate with us after a big play," Casey said. "He was a team-first guy and would do whatever he could to help us or any of the coaches out. All the guys made sure that he was a part of the team and that we embraced him into our family as if he was suiting up with us every day."
In the past, Bando attempted modified sports that he could play with his disability, however, he soon realized that he was more passionate about sports in a different way.
"Honestly, [with] everything that I've learned in the last two and a half years or so, I'm a little bit more passionate about reporting sports than actually playing [sports]. I've realized that my limitations have gotten in the way of that and I've kind of just set that aside and focused on what I can do."
Bando's twitter for the football team Trojans FB Live gained 250 followers by the end of the season. Bando daily posted a variety of content including recap videos live updates, photos, and videos.
"He brings a positive attitude every day. He promotes our program in a great way and he is someone, as a coach, we love to be around and the players do to. Everyone has to fit a role and he fits a pretty darn good role," Lichtenberg said.
Along with reporting for the football team, Bando also worked as the varsity volleyball team's public address announcer during games. According to Bando, working with this sport was a step out of his comfort zone that he came to love. Girls' volleyball manager junior Evie Brindl recalls the beginning of her friendship with Bando.
"I met Zain freshman year in gym class. He was wearing a hawks shirt and I was wearing a jersey. We both complimented each other and went on and on about hockey because we both love it," Brindl said. "He was always so involved with our team. From announcing the starting line up to his awesome match point calls."
Starting in November, Bando began similar social media work for the boys' varsity basketball team. During the season, he hopes to put out even more content and include more last second videos and updates, Bando said. Varsity basketball coach Jim Thomas recognizes the benefits of added media coverage which results in exposure of players to college scouts.
"I just think that it's great that he has kind of taken on that role throughout our school," Thomas said. I've heard from many people just in the short time he has been on varsity how awesome it is to have those score updates or pictures of practice and warmups so people are really taking to having him do that for us."
Along with his work with high school sports teams, Bando attended a number of events over the past two and years that give him a glimpse into his possible future field of work. These include the Chicago Cubs Gala during the World Series and visiting the New York City office of Bleacher Report, a prominent sports media organization.
"It's just given me a lot more inspiration to know that it's very possible and I'm hoping that one day I get to work in a field like that because it's everything I've enjoyed for a very long time. There aren't too many words to describe all of these different things that I get to do. I just think that they're all really cool and I hope it leads to something huge," Bando said.
As players from both teams line up at the end of the game to shake hands, their work is done for the day. For Bando, his work for the team and his career have just begun.
View Comments(1)
About the Contributor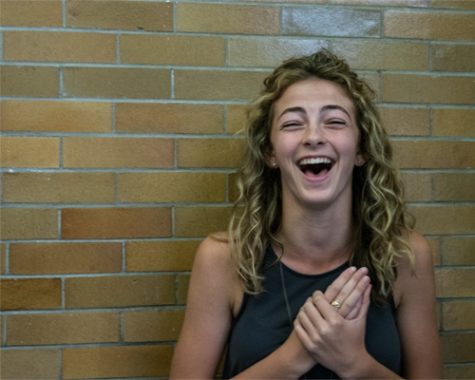 Abbe Murphy, Print Editor-in-Chief
This is Abbe's third year on staff. When Abbe isn't teaching someone how to use In Design or fixing picas, she can be found hurdling with the track...