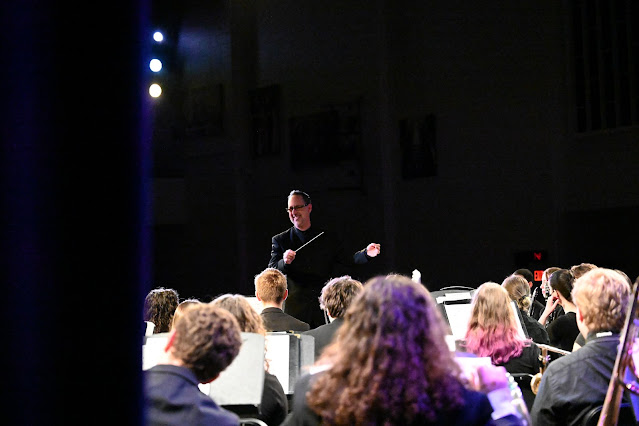 Fine Arts department chair Brayer Teague retires after 30 years
May 12, 2023
From the yearly Winter Mosaic concert to the halftime Trojan marching band shows, DGN Fine Arts has never failed to bring the DGN community together. Looking past the teachers and students that make these events come to life lies the true puppet master working behind the scenes– Fine Arts department chair Brayer Teague. 
After 30 years at DGN, Teague will be retiring at the end of this school year. Initially hired in 1993 as a band director for DGN, music has always played a large role in Teague's life.
"
Seeing their sticks moving in the same way, at the same height in such unison, early on I knew I wanted to be involved in percussion"
— Brayer Teague
"I grew up in Columbia Missouri and our house was near the University of Missouri Campus. I would often ask my parents if I could ride over to the campus and watch the drumline do their warmups. Seeing their sticks moving in the same way, at the same height in such unison, early on I knew I wanted to be involved in percussion," Teague said. 
After assuming the role of Fine Arts department chair, Teague fell in love with all aspects of Fine Arts. Ranging from theater to the visual arts, Teague has found himself learning more and more about his department each day. 
"Band has been his 'home base' but he's talked a lot about taking classes at COD for things like art or jewelry just to try and get a better understanding of what our colleagues are doing on a daily basis. That commitment has made him a strong leader," Director of Bands Jessen Smith said. 
Teague played a key role in the interview process for Fine Arts teacher Dr. Frank Piekarz in the fall of 1996. Since then, their colleague relationship has blossomed into a close friendship of 25 years. 
"I know that even though he's not gonna be in our hallway next year, our friendship continues. It's really only goodbye to seeing him every day at school," Piekarz said. 
Looking back over the past 25 years of working together, Piekarz recalls being young teachers together and experimenting with various Fine Arts activities that have since turned into everlasting traditions. 
After the first Winter concert the two worked on together, the teachers began to discuss changing the show into something entirely different. What began as a standard school concert was quickly transformed into the seamless production of various performances that exists today. 
"The two of us largely put together what the Mosaic concert currently is just in that first year of working together. It was just us as young teachers wanting to tinker with things like that. It was really fun," Piekarz said. 
Senior Grace Brenner believes that Teague's impact and his love for the arts at DGN will last far beyond his departure. 
"I am sad that the next generation of students won't have the same opportunity to work with him as I had, Mr. Teague's influence on the school will continue to help students foster a love for music for generations to come," Brenner said. 
Teague has been a role model for many other students over the years. Junior Ethan Martin looks up to Teague for his complete understanding of the Fine Arts department. 
"As a teacher, he's so knowledgeable. I can't think of a time when he didn't know what he was doing or didn't have a direction for that day's class," Martin said. 
Above all else, the community will forever cherish the band's traditions with DGN football. Smith recalls arriving at DGN and being taken aback by the support given by both sides of the stereotypical band vs. football rivalry. 
"He's helped cultivate this really strong relationship where the band is there to help the community rally behind the team and the team is truly appreciative. The mutual respect is so impressive that the whole post-game ritual is all that he started. I think that's just so powerful," Smith said.