Switching Fields: Athletes turned teachers
May 11, 2022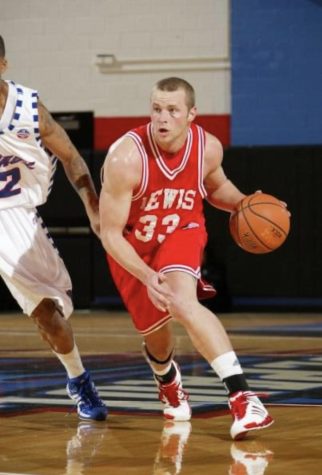 Highlighted: five past collegiate and pro athletes who are now teachers at DGN.
Stephan Bolt 
At his ninth grade meeting with his counselor, alumni and special education teacher Stephan Bolt was asked what his goals were for the future. He responded by saying he wanted to become a bro basketball player.
"She said it wasn't realistic and that I need to give that up because it was not something that had a very high probability of happening," Bolt said. "I always remember that motivating me probably more than a lot of things, to prove them wrong and go play in college and earn a scholarship."
That being said, Bolt graduated DGN and went to Lewis University to play basketball collegiality.  Fulfilling his dreams, after his third year of college Bolt was recruited to play on Germany's pro basketball team. 
"The recession was going on in 2008 and so economic times, where it wasn't as easy to find somewhere to play. But luckily I found an agent and signed a contract with them. They put highlights together and would communicate with teams overseas in different cases," Bolt said.
Even persevering through multiple injuries and a variety of surgeries, Bolt still managed to reach his dreams of competing professionally, even if it wasn't a long time. 
When Bolt came back from Germany, he started subbing for classes at DGN. He reached out to the athletic director, Denise Kavanguah and asked if there were any coaching opportunities for him. Luckily, he received the chance to coach the freshman girl's basketball team. 
"I didn't know anything about girls' basketball and I never really thought I would ever coach them. But I did," Bolt said. "And that was a really great year to learn as a coach because you get to see not-so great basketball players and how to make them better."
Senior Kyla Wilkerson has been on the team for the past four years and learned a lot from her coach. She now is playing basketball in college at Rockford University. 
"Bolt is a tough coach but it's only because he's so passionate about the sport. The best advice he's ever given me is, 'if you're early you're on time, and if you're on time you're late,'" Wilkerson said.
From then on, Bolt wouldn't have it any other way. 
"I never thought I'd be coaching girls basketball, but I love coaching my girls. I really do. I mean, it's so rewarding and so much fun. I love it. I never would have imagined going from playing professional basketball to coaching girls basketball for the last 13 years," Bolt said.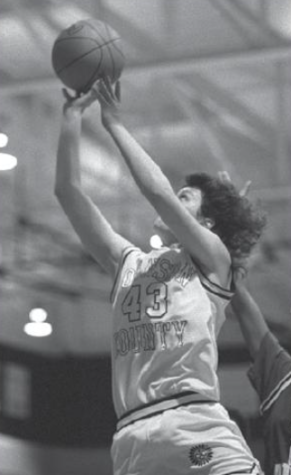 Tonya Giannone
Physical education teacher Tonya Giannone is in the Missouri State University Athletics Hall of Fame for her performance on her college basketball team. She was a star on the Lady Bear's team in the 1992 NCAA tournament, helping her team get to the final four. 
Getting to the final four has its perks and for Giannone as she recalls the bags of merch she received and the ceremonies before the big games. She explains why her excitement was so validating. 
"It was amazing because we were either an eight seed or a nine seed and we ended up upsetting the number one seed, Iowa, on their home court," Giannone said. "We beat them by one, which was a huge upset. And that was probably the biggest memory. And then from there it was just like, it all just took off." 
Missouri State ended up upsetting two more teams including UCLA and Ole Miss after defeating Iowa, but came up short not advancing to the final round. 
The journey for Giannone wasn't easy, as she had to take multiple steps to get to Missouri State because she went to a small high school in Kansas. She would average 30 points a game in highschool, but still couldn't get division one looks. 
"For me, that was a bit challenging," Giannone said. "I went from high school to a junior college in the Kansas city area that I was going to be able to get a lot more exposure, which is how I ended up landing in Missouri state."
She did whatever she could to accomplish her goals. 
"It was kind of a long way to get there, but I got there eventually."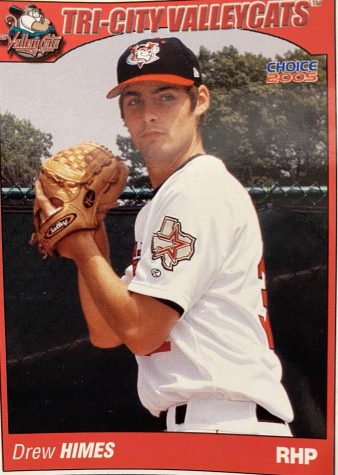 Andrew Himes 
Despite receiving two different Division One offers for two different sports, business teacher Andrew Himes decided to play both baseball and football at Illinois Wesleyan College at the Division three level. Though the process of making himself known wasn't easy, Himes was successful. 
"I made my own highlight films, for both football and baseball, by hand. I sent a tape to every single coach handwritten, with the addresses on the envelopes," Himes said. "I think I made 50 football and 50 baseball tapes for colleges all over the country."
Himes played his four years of football at Wesleyan but ended up only playing 3 years of baseball because during his senior year he was drafted to the Houston Astros Minor League Team. 
"It was exciting. It was really exciting. And then it was also nerve wracking, you know you have done something you have wanted to do your entire life," Himes said.
The biggest surprise for Himes going from playing collegiately to the league was the differences in environment. 
"I mean, compared to what I was used to, having thousands of people all of a sudden at games and having people asking for your autograph was such a shock to the system for me," Himes said. 
Himes has continued his baseball career by coaching the varsity boys' baseball team as a pitching coach. If there's one piece of advice he would give his players it would be to play at whatever level you are offered at.  
"I went to a D3 school. And I still got drafted. You can still achieve the things that you want to do no matter what level you go to. Personally, I think having that experience, I've been able to tell my story and help kids understand that."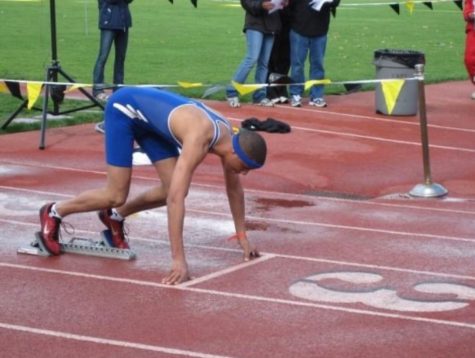 Gabriel Harris 
In high school physical education teacher Gabriel Harris' track team was very competitive. In order to make a name for yourself, you had to stick out. 
"I didn't want to be an irrelevant athlete. I had already not really had great luck with basketball. So my mom encouraged me to run track. I've always been pretty fast. So I went out and I was successful right off the bat," Harris said. "Once you get a taste of success, you want to build on that."
From there on out, Harris continued his track career at Depaul University in Chicago running in the 100m, 200m, and specializing in the 400m. His best personal record for the 400m is 46.87 seconds. His freshman year of college he was invited to try out for the junior Olympics. 
"I got the chance to go to Colorado Springs for the Olympic training center. Unfortunately, I got injured at the end of my freshman year, right before, but still went for some training," Harris said.
But because of the injury, Harris did not make the team. Receiving this opportunity was great, but college level track was more his speed. 
"I think having a leadership role on my team was probably my biggest accomplishment. I got the honor of being the track captain for my junior and senior year," Harris said. "This role really propelled me into my career in education and allowed me the opportunity to have those positive interactions and work with other individuals."
Harris compares college athletics to going to a state meet every week, so don't push yourself too hard. 
"Set goals for yourself that are realistic, but you don't want to overwhelm yourself because it can be overwhelming being in that environment," Harris said. "Be ready to be humbled and be ready to learn lessons about winning and losing."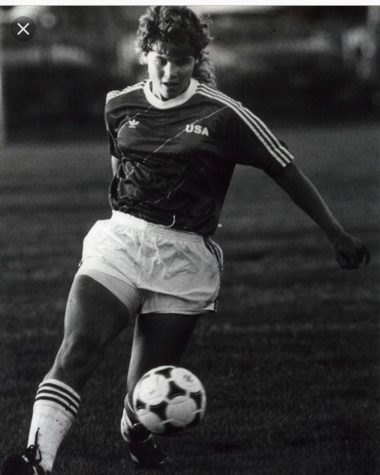 Christine Tomek 
Health teacher and assistant varsity soccer coach Christine Tomek's athletic career is one for the history books. Since high school, soccer has been a constant in her life. She attended Wheaton Warrenville South and while she was there, the school didn't have a girls' soccer team; therefore, she competed for the boys' team.
During her first two years of college she played softball at the University of Iowa on a full ride scholarship. But after those years, she missed soccer as her number one sport. 
"At Iowa, I loved the campus, loved the Big 10, but at that time, soccer was becoming more popular and all the scholarships were out east. So then I, after two years, called my parents up and I told them I really want to play soccer in college," Tomek said. 
From there, she went on to play center midfielder at George Mason University in Virginia. In her first year on the team they won the national championship in 1985, beating North Carolina 2-0 on their home field. When her collegiate career was over, she started playing for the US National Women's soccer team.
"I was fortunate enough to represent our country. And actually I was so excited that when I got my jersey, I wore it to bed," Tomek said. "Every time I put that jersey on, I knew I was representing myself, my family, and our country." 
Tomek competed on one of the first original US National teams, playing with Mia Hamm, one of the greatest players to ever play the game. She was on the team for two years and retired because the funding was not like it was today.
"We got paid $10 a day for spending when we travel. That was my salary," Tomek said. "I probably would have kept playing if financially I could do it. But I had to make a decision between teaching and playing soccer. So I made the right decision. I hung up my cleats and taught."
This is Tomek's last year coaching for DGN girls' soccer as she is retiring. She has been a part of the DGN community teaching classes since 1994, totaling 28 years. Senior Rachael Wilson has been on varsity the past four years and has enjoyed Tomek as a coach. Next year she will be playing soccer at St. Olaf College in Minnesota. 
"She's always very positive and encouraging. She's there to pick people up or give someone a high five when they come off the field," Wilson said.
Tomek's advice to future athletes is when you have an opportunity, take it.
"You won't play your sport forever, so take advantage of that opportunity. If you do have the opportunity to play collegiately, whatever division, one, two or three, do it. It goes by quickly, so embrace it," Tomek said.