Local club hosts TYR Pro Swim Series
April 19, 2022
There isn't anything special or unique about Westmont, Illinois, but the town garnered attention the weekend of March 2-5. The relatively new FMC Natatorium was built in 2020 and recently hosted the TYR Pro Swim Series. The series hosted world champions and Olympians in the pool for high caliber swimmers. 
Many Olympians and big-time swimmers swam at this event, including Caeleb Dressel and Katie Ledecky. Director of Communications Karen Khron helped make the swim meet run without complications. 
"Considering that we had less than three weeks to prepare, we feel things went extremely smoothly," Khron said. "USA Swimming, DuPage Convention & Visitors Bureau and the FMC team worked well together to bring this large event to Westmont."
Seeing these high-profile swimmers in the pool she works at, Khron was impressed.
"It was very exciting to see Olympians competing at [the] FMC Natatorium. Even more exciting was the number of records that were broken," Khron said. "In addition, it was gratifying to see the Olympians interacting with young, aspiring swimmers. The athletes were very generous with their time, which meant a great deal to the spectators."
Junior Amneet Kaur is a member of the FMC swim club, and the natatorium is where she practices. She was able to see Ledecky swim the mile Wednesday night, along with many other races that Saturday, and felt happy to see both the Olympians and lesser-known athletes perform well. 
"My favorite person to watch swimming was Leah Hayes, who is a 16-year-old from Illinois. I have watched grow as a swimmer since I was 9 years old," Kaur said. "It was amazing to watch how Hayes got 1st in multiple events and broke multiple state records in the 15-16 age group as well as national records."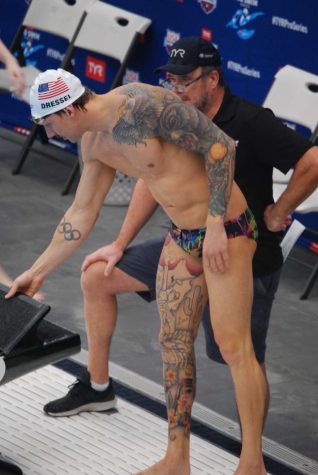 The FMC club team got the chance to have a Q&A with 2016 and 2020 Olympic Caeleb Dressel, who holds seven gold medals. DGN junior swimmer Molly Hagstrom attended the 30-minute interview and was thankful for the opportunity. 
"It was such a cool opportunity. Before [it], I watched him [Dressel] on TV break world record after world record, but I didn't know much about him," Hagstrom said. "It was really interesting to hear about his childhood and how he became such a good swimmer."
During the Q&A, Dressel talked about his challenges as a swimmer and his journey on the way to Tokyo. He thinks of himself as just a normal guy. 
"I'm still trying to figure things out. That's all it ever is. I never want to be put on a pedestal because I swim fast—I want to be more than that. I want to be able to share my experiences down the road," Dressel said. 
Swimmers from all over were at the meet, representing various countries like India, Egypt, Italy and Canada. Part of the reason for building the FMC Natatorium was to support the swimming community and keep Illinois swim dollars in Illinois.
"Walking into the same place where I practice swimming every day and seeing Olympians warm up and race for their events was astonishing," Kaur said. " This will definitely be a motivator for me going forward and will help me during the challenging parts of my training."