SENIOR ASSASSIN: Don't hate the player, hate the game
April 12, 2022
The end of February marked the annual return of  "Senior Assassin," a game where hundreds of high school seniors devote hours of their day to hunt their classmates with Nerf guns in an effort to be the last man standing. For legal reasons, the game is not affiliated with the school.
 Beginning Feb. 28, 213 contestants paid $10 to enter and had one week to shoot their assigned target with a Nerf bullet—if they didn't or were shot by whoever was hunting them, they were out. 
Almost like a real-life game of Fortnite, seniors were creative this year with their assassination tactics, blindsiding friendships and double-crosses.
HAT-TRICK KILL
Seniors Charlotte Hansen, Timmy Galligan, Ryann Wendt, Ella Sebek and Natalie Mall all took part in a night of betrayal March 1. 
Hansen crafted a plan to meet with Galligan in order for him to help her "shoot her target." All along, she was going to bring Wendt, who had Galligan as her target. Together, they planned to shoot him as he was picking up Hansen.
"I straight up asked him if he knew who [my target] is and he [was] like 'Yeah, do you want me to take you there?'" Hansen said. "My plan the whole time was to pick up Timmy with Ryann in the back so that Ryann could shoot [him]."
Because an Instagram account, "dgnassasssinplug," had posted that another student had Hansen as their target, she felt safe getting in the car with Galligan. However, in the spirit of Senior Assassin, the plan fell through, and Hansen was blindsided. As it turns out, Galligan had Hansen as his target and shot her as they were hunting. 
"I was like, 'Now I feel like an idiot.' There were no red flags, [except for] maybe the fact that he wanted to [help me] and that he wanted to drive," Hansen said. "I felt pretty played. There was a lot of screaming, [as] I was mad at him. I was like, 'You're never going to hear the end of it.'"
In Hansen's attempt to aid her friend Wendt, the plan backfired. Yet, she convinced Galligan to go to Culver's with her and Sebek, a close friend of them both. Wendt could then meet them and shoot Galligan as a sign of revenge. 
As they were all sitting in their booth, Wendt walked in and shot Galligan from the back, catching him in disbelief. 
"My guard was down, so I knew I was going to go down some way like that where I was just not paying attention," Galligan said. "You gotta do what you gotta do, it's nothing personal."
Not thinking about the game, Sebek posted the kill on her private Snapchat story, alerting her assassin and friend, Natalie Mall, of her Culver's location. 
"I had heard that someone else had me so as soon as [Natalie] entered Culver's I couldn't even move," Sebek said. "I was frozen and just knew it was the end."
With three contestants out in the span of 15 minutes, the game had witnessed a trail of friendship betrayals, blindsides and upsets. 
TWO-TIMING TWINS
According to senior assassin commissioner George Fotos, each assassin's target was chosen completely at random through a generator. 
This caused conflict when senior Nick Adamo had to shoot his sister, Emily "Gemmy" Adamo, in the first round.
"Imagine my surprise when my brother and I were testing out guns in the living room and then he shoots a Nerf bullet at me and says 'You're out,'" Emily Adamo said. 
In the Instagram post publishing the kill, many of Emily Adamo's friends commented that it was unfair that Nick's kill and Emily's elimination was so easy. They claimed with that setup, she had no fair chance of winning.
"[After he shot me,] he started laughing nervously, no longer smiling and joking around. That's when I knew the game was over before I even got to start playing," Emily said.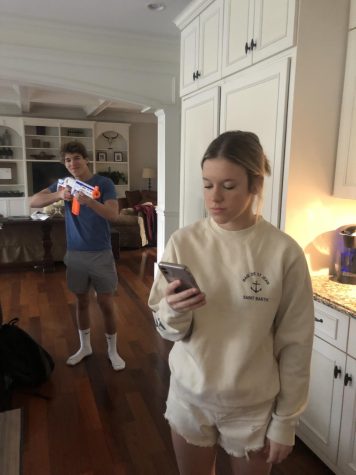 With 25 comments on the post, her friends started the hashtag "#Justice4Gem" and "#StandWithGem."
Because of this scenario, a buy-in option was considered by the commissioners, but after an Instagram poll resulted in a 70-30 "no buy-ins" outcome, the rules remained the same. However, there have been many rule changes since.
RULE CHANGES
From parking lots to backyards to recreational basketball games, the senior assassin rules have evolved weekly based on contestants' preferences. 
Originally, contestants were not allowed to shoot each other at work parking lots or at the DG Rec Center. After deliberations between the commissioners, that changed.
"Because I am not playing, it's a little bit difficult to understand [the strategy of shots]. So [the commissioners] had a meeting, and decided to start round two, if [your job's parking lot] is where you get shot, that counts," Fotos said. 
Beginning with round two, more rules were set in place because of extraordinary circumstances.
"You can't open somebody's fence to walk into a backyard because we had an incident where someone's younger sister was in a hot tub and two guys walked into her backyard and the girl was obviously taken aback by it," Fotos said. 
More rule changes include the restriction of intruding into attached garages and blocking someone or someone's family from entering or leaving their driveway. If an individual is found to break these rules, they will be placed on a 24-hour freeze, which prohibits them from shooting their target. 
UP ON THE HOUSETOP
One contestant, Charlie Platt, fell victim to these rule breaks. Across Snapchat and other social media platforms, there were pictures surfacing of Platt's target supposedly on his roof.
"Although [my assassin] did bring all the tools to successfully get onto my roof, I do not believe that he went onto my roof. None of my family or me heard him on the roof or even knew he was there until people started to text me that he was on my roof because of his Snapchat story," Platt said.
To try to fool his assassin—who at the time was waiting in his driveway—Platt called one of his friends to come over and pose as his assassin's assassin.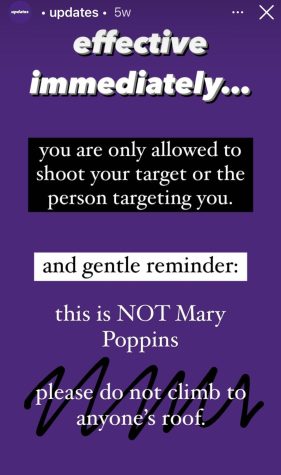 "He came back with his car and blocked my driveway, preventing my parents from leaving even after I asked him to please move his car," Platt said. "After about 20 minutes of him sitting in his car in front of my driveway, the person that I had come to be a fake assassin was able to shoot him because his doors were unlocked. He then stepped out of the car and then I shot him to give him a 24 hour cool down."
Because of the "fake assassin" stunt that Platt pulled, he was given a 48 hour cool off at the beginning of round two, because he had already shot his target in round one. Platt's assassin was ultimately disqualified from the game because he prevented his family from leaving the house. 
ROUND 3
Round 2 of senior assassins ended March 13 at 11:59 pm. With that, only 25 contestants shot their target and avoided getting shot. However, the commissioners have agreed to allow "ghosts" back in the game. 
"Ghosts are people who have died in past rounds. We decided to implement the idea of bringing ghosts 'back to life' due to the low number of people still in the game," Fotos said. "We anticipated around 50 people left after round two, so [the lack of contestants] shortened the end date by a few weeks."
On the official DGN Senior Assassin Instagram account, dgnseniorassassin_22, clues were posted as to where each previously eliminated contestant could find their ticket back into the game. Contestants then had to search the area, find the slip of paper, and send a picture to one of the commissioners to claim their spot in round three. Locations of the second chance tickets included the Tivoli Bowl,
Carsten's field and the Nerf section at Target, where coincidentally, previously mentioned Timmy Galligan got back in the game.