Bass fishing prepares for upcoming season
March 8, 2022
Some people may think that fishing is just based on luck, but for sophomore Ethan Park it is much more than that. 
"For fishing, like anything, it's practice and time in the water. As you spend more time fishing you get more basic knowledge and learn from your own mistakes," Park said. "If people think fishing is just luck, they probably haven't experienced fishing like I have."
Bass fishing is unique because it includes a club and a team. The club has around 40 members learning about fishing, and the team consists of more experienced members.
"We have the club aspect where we welcome all DGN students if they want to come hang out or talk to us about fishing," Park said. "Then we have the team aspect where some of us are more serious [about] sectionals or state tournaments."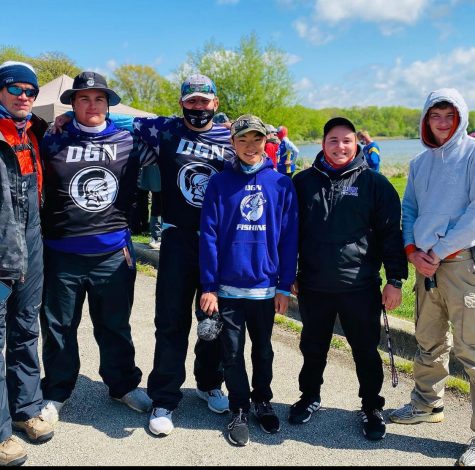 Park is co-captains of the team along with senior Daniel Jones. Their positions were chosen by last year's senior captains. Jones joined bass fishing only last year to try something new. 
"For me fishing was an escape from everyday life, and had never been something that I wanted to do competitively. After I went to that first meeting that switch had been flipped," Jones said. "I hadn't realized how big of a community it was and now all I want to do is fish in tournaments." 
During the off-season bass fishing has weekly meetings to organize their schedule for spring and summer time tournaments and learning more techniques. 
"At these meetings we go over how tournaments run or sometimes we will have speakers come in and talk about fishing," Park said. "Other times we will watch an instructional video to learn how to fish, talk fishing, and share stories."  
Tournaments for the team last about seven to eight hours and are located throughout Illinois. At the tournament the teams get a five fish limit, where they catch their five best bass. The team hopes to bring home their third consecutive sectional win this year. 
"In the past year our biggest accomplishments have been our consecutive top ten finishes and our state qualification," Park said. 
Freshman Jack Richtman is new to bass fishing and is already making his mark on the club. 
"My biggest accomplishment in the past year on the bass-fishing team was definitely qualifying for state which will be held this summer," Richtman said. "I caught a total of 9 pounds 11 ounces on the Fox Chain of Lakes and got second place." 
Coach Chris Guerrieri is excited for the upcoming season, ready to see how the team performs.
"We feel good about the season, and we have a lot of young good fishermen on our team," Guerrieri said.
Practices will start soon for the team as the weather permits. Their first tournament of the season is scheduled for April 9.