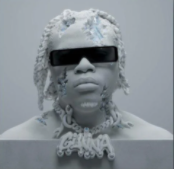 Review: DS4EVER
January 12, 2022
At 11p.m. on January 6, Gunna dropped his highly anticipated album DS4EVER (Drip Season Forever). Gunna is one of my favorite rappers, but when I listened to this album the morning after it dropped, I was thoroughly disappointed.
DS4EVER is Gunna's most recent album since he dropped Wunna in 2021, which many people, including myself, loved. It's safe to say Wunna set the bar really high for all of Gunna's following projects, due to the amount of success it acquired.
Gunna's fame took off in 2018 when Drip Too Hard dropped, a song by Lil Baby that Gunna was featured on. Since then, the duo have done many songs together, but Gunna was starting to fall into Lil Baby's shadow. When Wunna came out, that side kick reputation vanished, as Gunna was seen as a star of his own.
DS4EVER has 19 songs, and personally, I only enjoyed five of them. He featured seven other artists throughout six songs, including Roddy Rich, Young Thug, G Herbo, and of course, Lil Baby. Some of these rappers enhanced the album, bringing in their own styles of rap, and making this album more diverse. However, on certain songs such as 25k Jacket (featuring Lil Baby), the featured artist took over the song, and Gunna was left in the background, similar to the beginning of his career.
My favorite songs on this album were South to West, alotta cake, 25k Jacket, and Mop (ft. Young Thug). All of these tracks incorporated Gunna's sound and were very traditional to his style, and the features on these songs make the overall production better.
There were also several songs that I simply could not listen to, they were just terrible. Pushin p (ft. Young Thug), life of sin (ft. Nechie), thought i was playin, and poochie gown were my least favorite songs on the album. When I heard these songs for the first time, I had to do a double take to make sure I wasn't listening to sound cloud rappers. The songs felt so utterly simple to a fault, and lack the creativity that Gunna has been known for producing. 
DS4EVER was a huge letdown to anybody who was eagerly awaiting the album release. Gunna, in my opinion, has been hot throughout 2021, and this album dropped the ball. Let's hope he can make a comeback.